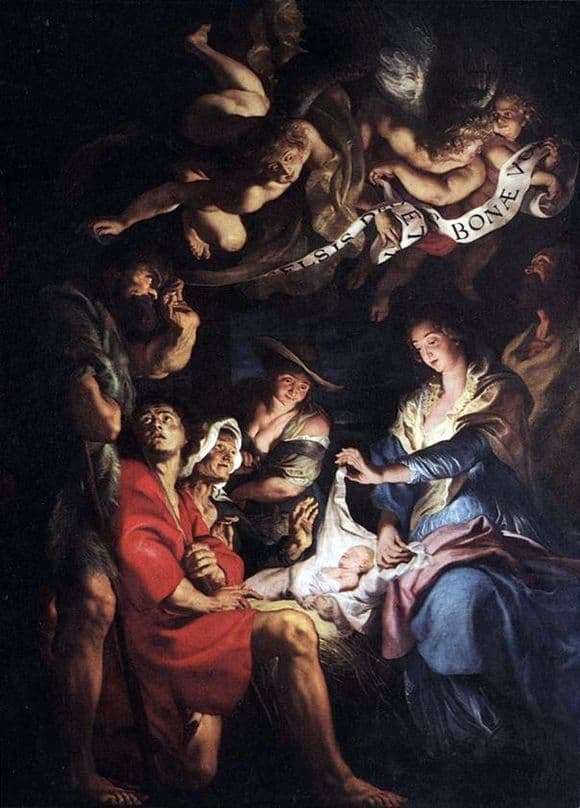 Rubens painting was the final sketch for the grand altar image. This creation is characterized by a special tonality of reddish color. Also worth noting is the free texture of the master brush strokes of the painter.
You can feel the influence on Rubens painting in Venice. For later works of the artist such a manner was no longer peculiar.
Rubens creates his picture based on the famous masterpiece of Correggio. The influence of the painter can be felt in a special dynamic and a special transfer of the emotions of those images created by Rubens. Also, the painter adopts the organization picture in the form of two tiers.
From above, we see angels that hover carelessly. The shepherds are depicted below, as well as the Virgin Mary herself. She bent over a manger in which Christ sleeps peacefully. Peasant types are incredibly peculiar. The lighting is special. It seems Rubens deliberately snatches the figure out of the dark.
Rubens manages to create as lively images as possible. He takes the gospel story. But at the same time the characters of his paintings are as alive as possible. In this creation brown tones prevail. The artist identifies the central figures with the help of bright dresses. Blue, red and white as if snatched by the artist from the darkness specifically to create certain accents.
Each Rubens brush stroke is incredibly voluminous. His canvas is incredibly soulful. It is filled with a cheerful mood and a special perception of the world by the artist.
Rubens is a true master who has managed to somewhat escape the plot's religiousness. It would be desirable to consider his canvas to infinity. Every detail is important here.
With her, the artist creates a special flavor. The viewer feels the special joy of the artist. He witnesses an incredibly touching scene, he wants to share his feelings with all of us.