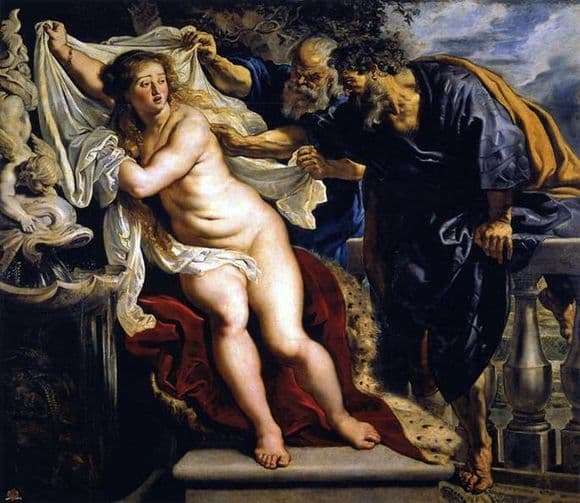 In the center of the canvas, painted by Rubens, is Susanna, who was bathing naked in her garden. And this process was watched with interest by two old men.
The history of the painting is known from many verses from the Book of the Prophet Daniel. According to the story, the observers are deeply respected, elected judges. And they threatened the girl with charges of adultery. In this way, they tried to make her close. Susanna, of course, refused, and for this she was accused of adultery, which was punishable by the death penalty.
Saved her from death Prophet Daniel. He interrogated each elder separately and realized that they were lying. For this they were executed. The artist often turned to this story.
In the image of Susanna, the author conveyed incredible sensuality, combined with fear. The girl is completely naked, and her tender body literally shines, manifesting itself in the darkness of the garden. This is all manifested through a unique shimmering painting. She looks at the elders with horror in their eyes, who are already pulling their hands to her. The picture clearly shows a contrasting combination of tenderness, beauty, freshness and lustful old age. This is the whole drama of the plot.
Rubens portrayed Susanna so pure, tender, chaste, that the victory of innocence on basest instincts due to elevated physical beauty becomes apparent.