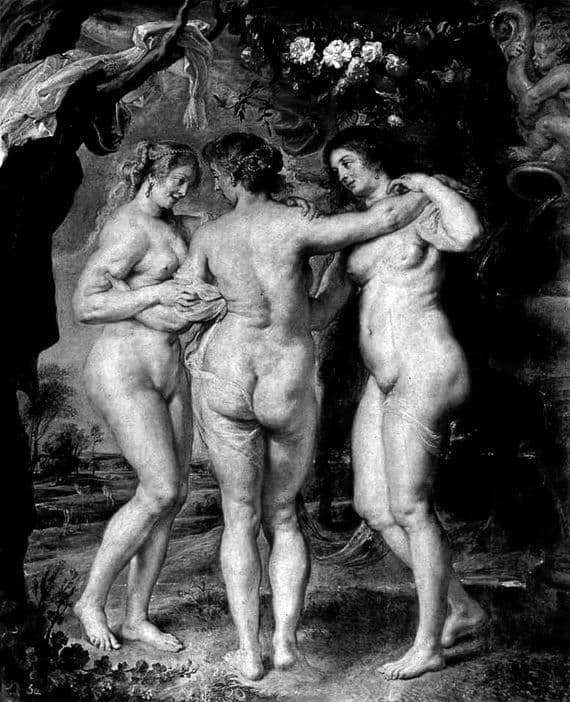 The pictorial painting of the baroque epoch "Three Graces" (1639) is painted by the artist South Peterlanter Peter Paul Rubens. The dimensions of the canvas – 221Х181 cm, the technique of execution – oil on wood. This masterpiece of art belongs to the late period of Rubens, which began in the 1630s. At this time, the artist moved away a little from the hustle and bustle of life and limited himself to staying at Stan Castle.
The pictures of this stage of activity are small but have a very deep meaning. The artist began to perceive the world with concentration, which could not but reflect on his compositions.
And on top of his creative development, Rubens painted a picture with intimate notes called "Three Graces". Three charming young women he presented to the audience in the role of goddesses of antiquity.
The author simply admires the beauty of the female body. Slightly plump, but very graceful forms, the soft tilt of the head, hands woven into the dance – everything suggests that we have real graces. Whatever the current parameters of beauty, Rubensian heroine paintings are just great. The author depicted charming graces on a landscape background. To the right of them one can see a babbling fountain in the form of a human figure, and above their heads a woven flower arrangement. Female outlines resemble the contours of the sculpture. Warm color shades are added to the subtle curves and movement in the circle, to which the artist often resorted.
The model for the woman on the left was Elena Furman – Rubens's second wife. The picture is written for a short time after the marriage. This suggests that the artist was truly happy.
Until the master's death, the canvas remained in his house, and only in 1640 "The Three Graces" acquired Philip IV, so the picture was taken to Spain. Today it is kept in the Prado Museum in Madrid.