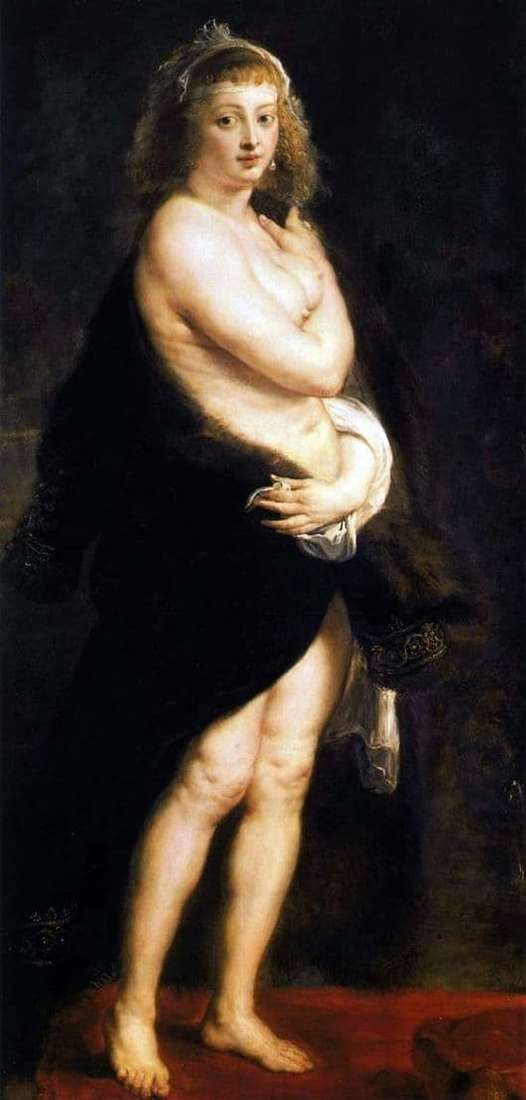 After the death of his first wife in 1626, Rubens marries a second time, his wife becomes the daughter of his friend, young Elena Fament, with whom he lived a happy 10 years of life until his death. During this period, she very often posed for the portraits of her husband, helping her to create world masterpieces.
Especially distinguished from them is the painting "Fur", which depicts a frank, sensual and full of captivating beauty image of the second wife of the great Flemish artist. The portrait of Rubens "Fur coat" also has another name – "Venus in furs". And indeed, Elena in the picture personifies youth and beauty. A woman is full of freshness, femininity and charm, and her elastic body is covered with a velvet fur coat, elegantly draped over her shoulders.
In this picture the technique of the late Rubens reaches the highest degree of refinement. He subtly feels the tones: the body of a beautiful breasts beautiful shimmers with delicate pearly shades, which are delicately tinted with a dark background – fur coats.
There are no parallel lines in the picture, they are all broken. Her arms, calves, neck and soft, airy hair – the whole body sinks gently into the fur, leaving it in the shade, and the line between the figure and the immersion remains blurred. The background "pulling in" the body allows the viewer to admire the copper shade of hair, the tone of the chest and the hands merged into a single pearl symphony. In the game of colors, the picture "comes to life" before the public, I want to touch it.
The spiral turn, in which Elena stands, makes her magnificent figure more graceful. Through the canvas Rubens was able to convey all the love and passion for his second wife, his admiration for her earthly beauty. In the last years of his life, the artist, thanks to Elena, departed from the image of abundant forms, his art became more refined, sincere and enlightened.