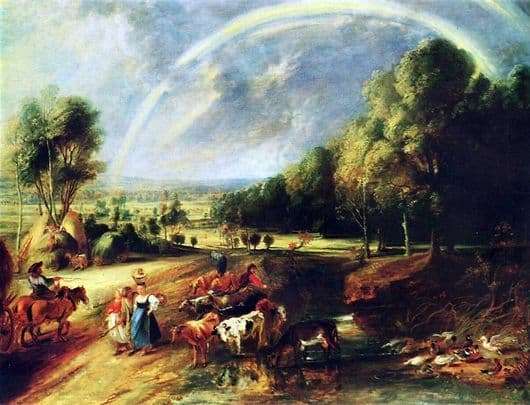 Peter Paul Rubens is a Flemish painter who embodied in his works the vitality, mobility and sensuality of European painting of the Baroque era.
Paul rarely painted landscapes – his work forced him to engage in live scenes, but still he created several pictures of his favorite landscape. Walking astride his native terrain, Rubens sometimes stopped, bushes, trees, gates attracted his attention, it all seemed important to him, he could not reproduce important on paper. One of such important paintings becomes "Landscape with a Rainbow".
With his originally developed free style, which Rubens painted for his own pleasure, he reproduced his favorite terrain on canvas, he wanted to see the picture as in love as he did with his love heart. The beautiful charms of flowers and the gentle light on the picture convey the personality of her character, the emotions of this masterpiece are much stronger than the emotions of the pictures written earlier.
Rubens eyes were filled with passion, mystery, curiosity, a desire to convey their emotions and experiences – all this reproduced his hand on the canvas. Very precisely, the brightness, brilliance of the sky, the simple but at the same time such a busy life of the peasants, a life that extends far beyond the horizons of trees and fields, was conveyed. And the rainbow that flies over the glittering trees conveys infinite mystery.
The nature, which is familiar to us, becomes unique when the baroque masters start to reproduce it on their canvases. They strive to convey the turbulent life of the world, the dynamics of the elements.
Looking at the paintings of Paul Rubens, you can feel the joy of life, a sense of positive and beauty of the world. All these words can be attributed to many pictures, but real emotions, experiences and love for the native terrain can be seen and felt in Paul's painting "Landscape with a Rainbow"