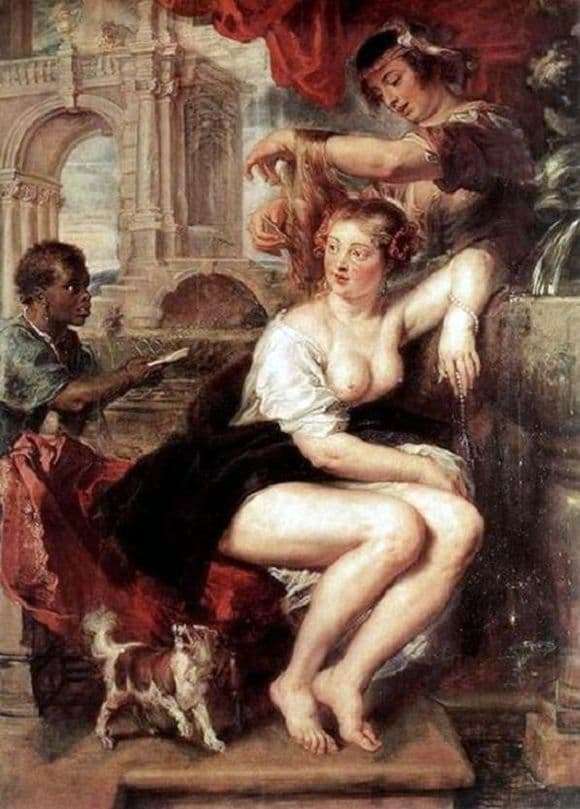 Peter Paul Rubens is a famous Dutch artist who lived in the years 1577-1640. He painted pictures on a variety of topics, but those that are written in biblical scenes were his best pieces.
The painting "Bathsheba at the Fountain" is written based on biblical stories. Of course, people far from the history and the Bible, do not immediately understand and do not recognize the heroes.
In the center is the main character, Bathsheba. She was the wife of Uriah the Hittite. And the main character here is David, whom you won't find right away. He is on the balcony in the left corner of the picture. Legend has it that once David saw a girl who was sitting near a fountain, she was madly in love with him, and he fell in love with her.
Rubens managed to convey the beauty of young Bathsheba. He showed us the beautiful, strong legs of a woman, an elastic chest and a sweet red-cheeked face. Most likely, Bathsheba washed herself in the morning by the pool, when David saw her. Near her, the artist depicted the servants.
The lady at the back is brushing the golden long curls of Bathsheba. A black kid gives things to mrs. More attention is attracted by a small dog, probably, this is Bathsheba's favorite. The girl herself is looking off into the distance. There is a smile on her face, and there is a light in her eyes. A girl is sitting on a velvet red armchair. She is wearing a white dress, slightly lowered, and a black raincoat that covers her.
Beautiful in the picture and background. Actions take place in the palace. Therefore, behind the heroes, there is a majestic arch, stone walls and flower pots. David himself is in the upper left corner. His figure is almost invisible. One can only slightly see that he is wearing a golden dress.
Peter Rubens was able to convey the true beauty of the world. And he found beauty in women. Therefore, many believe that Rubens portrayed the ideal of the female figure. Experts find this ideal in his Bathsheba. After all, her body is really beautiful and beautiful.