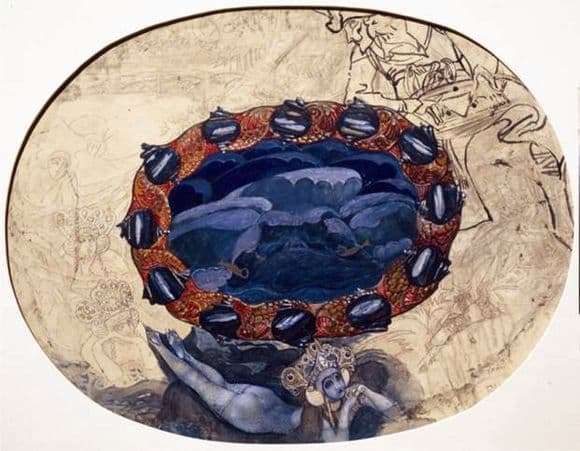 Vrubel, like no one, knew how to portray a fairy tale on his canvases. His imagination had no limits, his work did not tolerate platitudes. He drank deeply, walked a lot, played gambling. By the end of his life, the artist was completely mad. The author's lifestyle was ruined by the author, but made his masterpieces even stranger and more incomprehensible.
In 1899, the picture of Vrubel, by that time already renowned Symbolist painter, "Sadko on the bank of the Ilmen Lake", saw the light. Not only the form of the work itself is unusual, but the materials used to create it. The picture is made on an oval-shaped cardboard using paints with a silver and gold effect. The picture is more like a dish or a plate. It was made to order, for the famous rich man S. Mamontov. He acquired many finished works of the author.
The plot is saturated with mystery and magic. The central forming part of the composition is a blue lake with raging waves. Water resembles the face of an old man or a sea monster. The shore of the reservoir is covered with large fish shells, closing the lake in a circle. On the very edge, in the foreground is a naked beauty. This is the beautiful queen of the lake. Her body has a light bluish tint, and her figure is flawless. The girl is not devoid of jewelry, on her head shines a magnificent kokoshnik. The upper part of the work contains a schematic depiction of Sadko himself.
Looking at the picture leaves a double impression and a strange aftertaste. On the one hand, the artist's vision is extremely curious, but on the other hand, the work is frankly strange.