Description of the painting by Mikhail Vrubel "Princess of Dreams"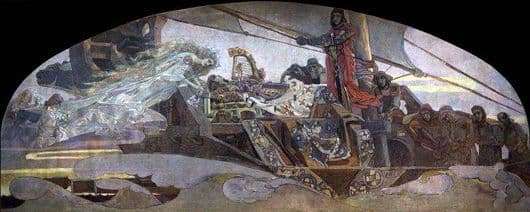 Mikhail Vrubel painted the panel "Princess of Dreams" in early 1896, Konstantin Korovin and Vasily Polenov helped him in creating the work. Now this large-scale work is posted in the Tretyakov Gallery. Its size is impressive – the width of the picture reaches fourteen meters, and the height is seven and a half meters. Canvas was written with the help of artistic pastels and coal.
Unfortunately, at the time of the debut, the canvas did not have much recognition, during the life of the artist the critics did not find in it originality and spiritual strength. Art connoisseurs considered the canvas of Vrubel's hand to be overly decorative.
The work was struck by its nontriviality and courage, which was not welcomed. All this happened, despite the great popularity of the work among the public.
The artist depicts on the canvas a scene from the work of Edmond Rostand, written in the form of a poetic drama.
The story tells the audience about the platonic love between the troubadour Geoffroy Rudel and Princess Melisandre.
The young man heard many stories about the incomparable beauty and magnanimity of the princess, which made him fall in love. He sets off on a journey across the seas to meet his lover for the first time and reveal her feelings to her. But along the way, a young man falls ill with an incurable illness. He nevertheless reaches her palace and at the time of their first meeting he dies. Then the princess makes the decision to go into a nun.
The panel is written very unusual. Among the shades you can find an abundance of golden, gray-pearl and olive. All of these obscure undertones create the impression of being fabulous. The picture amazes with its scale and mysticism. In the center we see the figures of a young man in red floating on the ship, who stretches her arms to her beautiful princess, but these two pure souls are destined to unite only for a short moment.





(
1
votes, average:
5.00
out of 5)
Description of the painting by Mikhail Vrubel "Princess of Dreams"