Description of the painting by Mikhail Vrubel "The Flying Demon"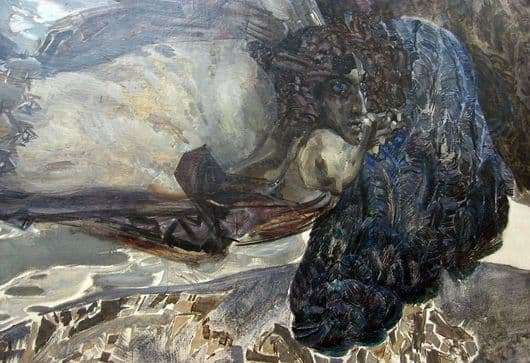 If you carefully study the entire biography and creative way of Vrubel, then we can confidently say that his works are imbued with an atmosphere of mystery, fantasy and a veiled oddity. He attached particular importance to the topic of Demons. After all, he began to work in this spirit as early as 1891, when, at the suggestion of M. Yu. Lermontov, he worked several illustrations of his eponymous poem "The Demon". A total of about thirty works were created.
The very first and quite successful "Demon sitting" appeared in 1890. Today this work is kept in the Tretyakov Gallery, and the original is actually there. But this masterpiece was created in the house of the merchant S. Mamontov.
Interestingly, the inspiration to the artist did not come immediately, but only after reading the poem itself. Therefore, after creating the image that he had imagined, he decided to characterize his hero not as an evil and
rebellious creature, but as a suffering and confused creature. And people from ancient times believed that demons were negative characters that prevented a person from manifesting his power and will. The depicted character, who sits and while thoughtfully thinking about his life, sees that nothing can be changed. That is why his gaze is sad and sad, and he has to come to terms with the situation of the world around him. His gaze is sad and sad, and it is clear that he is surrounded by flowers.
Around the demon thicken paint, tapering frame. Therefore, there is a feeling of being tired and constrained in one's actions. The scarlet sunset in some way symbolizes hope, which has not yet been lost in vain. If you look closely, you can see that the picture is made in some kind of not very ordinary format.
The artist used his special techniques that helped create the impression of a mural or stained glass window. The picture also has receivers that symbolize the activity and mystery of these quiet creatures.





(
2
votes, average:
4.50
out of 5)
Description of the painting by Mikhail Vrubel "The Flying Demon"