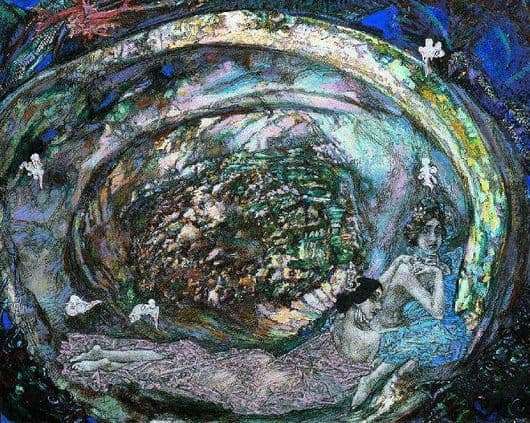 The painting "Pearl" was written by Mikhail Vrubel in 1904 and is exhibited in the Tretyakov Gallery of the city of Moscow.
It is believed that inspired to write a picture Vrubel Voloshin gift – a very beautiful large seashell, covered with sparkling pearl from the inside. The shell reminded the artist of the sea, drew in his imagination seascapes, smells and sounds. Vrubel was eager to transfer the beauty and shine of mother of pearl to the canvas, but it was not so easy. With each turn of the hand, the sink changes its color. And when the light changes, it plays quite differently.
The painter comes to the conclusion that the shell plans can be conveyed by various transitions of shades of white and black. Vrubel makes a lot of sketches of the sink with charcoal and pencil before taking up the brush. He decides not to leave the sink painted with paints in black and white. The artist uses the most complicated play of purple, green, blue and pink flowers. The shell looks so natural that it seems as if turning the head, it will change its color. A spiral of pearls directs glances towards the center.
Vrubel depicts a shell of a much larger natural size, and it reminds him of the sea tower with mysterious inhabitants. Then the artist enters into the picture of the sea princesses. The princesses are depicted at the bottom of the canvas and give solid construction to the whole structure. The figures are not too successful Vrubel, their poses are too proud and majestic. The artist himself was very dissatisfied with the princesses who were unworthy of their wondrous home.
The picture Vrubel writes already at the end of his life, this is one of his last works, so he works on it for a long time, drawing the details again and again. He is looking for nature itself, lightness and warmth, magic. Contemporaries enthusiastically accept the creation, exhibited in 1905 at the exhibition of the Union of Artists.