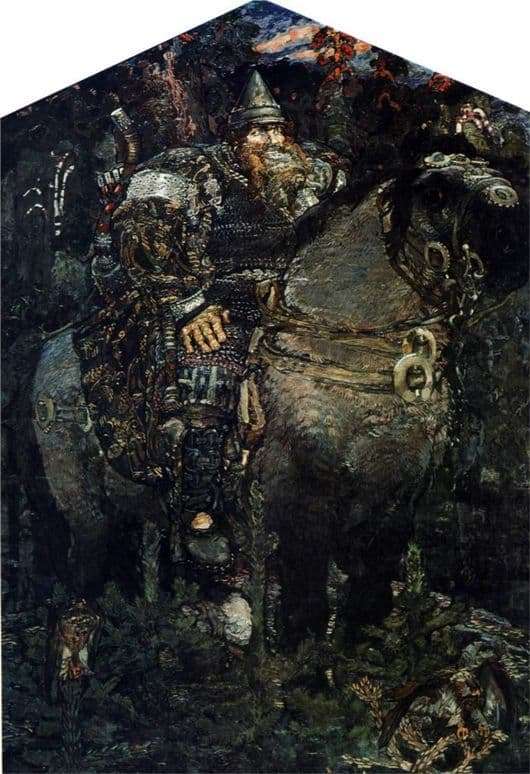 Originally the picture was called "Ilya Muromets", written by MA Vrubel is incredibly fast, within a couple of weeks, with almost no preliminary sketches and drafts. The shape of the picture was the usual traditional rectangle. Pointed at the top in the form of a huge, heavy triangular spear shape, she received it later. In general, the picture reflects the most monumental and bold ideas of the artist.
Vrubel started writing his "Bogatyr" from the head of a horse, for which he was looking for the right angle of turn. The real Russian scrap to match his rider, whether under his weight, slipped and hoofed into the ground, or she grows from the depths of mother earth, feeding on her strength, embodying her power. Somewhere far below, not reaching down to the knees, pines and firs grow, a dark background, twisting intricately, is seen in the background the enchanted forest.
The huge boulder, like a massive giant mountain, outlines the figure of the Russian bogatyr, which is integral with the body of the horse and then with forests, fields, land and sky. The clothes, traditional for Russian warriors, recognizable by us, organically look in a combination of colors, tones, lines of a general background of a picture. The power and power of the land and the people, filled with stately calm and wisdom, are organically concentrated in the form of the heroic heroes.
The features of the face are not written out for a specific hero of one of the epics, they have general, generalized outlines, they are rather symbolic rather than individual. The picture as a whole is amazing titanic fiction, monstrous power and monumentality. Hyperbolicity is expressed in the very approach to the incarnation of the heroic beginning, in the spirituality of nature and the folk creative spirit. The author himself called his work the music of the whole person, which sounds like a hymn to the motherland.