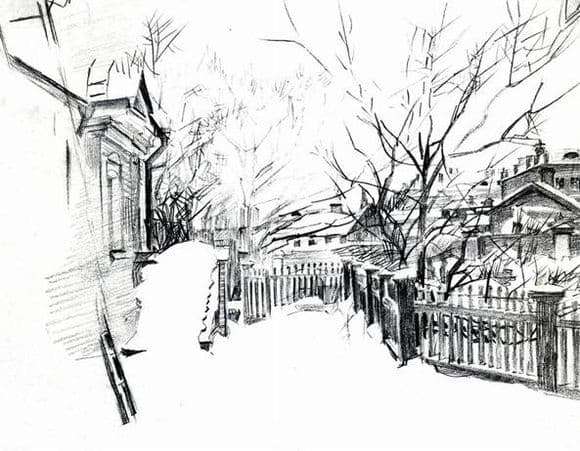 The Russian artist Vrubel could do simple strokes and, in a limited color palette, convey more than is possible in the aggregate of techniques and shades. 1903 and 1904 appear in the history of art years of creation, at first glance, the usual monochrome sketches "Yard in the winter." In fact, the work is a worthy example of a complete picture.
The viewer sees a small courtyard covered in snow. Snow covers all the objects in the picture. The snow drifts and gently lying snow layers on the columns of a carefully and rhythmically drawn fence, on the roofs of low houses, are read with a glance.
Naked trees are traced in confident, broken lines. The branches of distant trees dissolve in the icy air. The architecture of the house closest to the viewer harmoniously dissipates, as if disappearing in the white power of winter. The urban constructions are worked out in detail: windows, roofing and pipes on it.
The absence of human figures in the field of view is noticeable. There is not a hint of human presence. The author is interested in a clear, geometric architecture, which also evaporates in the whitening captivity of frost.
"Yard in the winter" is made on the usual paper with the participation of only a black graphite pencil. Different shades are created using pressure slate of varying intensity. The picture is composed of gradations from coal to light grayish tint.
It is surprising and ingenious that a significant part of the canvas is not touched by a single graphic tool, but we, the spectators, see real snow covers on the blank areas of the sheet.
The illusion of a continuous shroud is created by varying the degree of saturation of the surrounding objects. Visible on the slightly delineated snowdrifts texture of loose, slightly melted snow.
The "courtyard" of Vrubel is located in the Tretyakov Gallery, awaiting the interested and admiring glances of visitors.