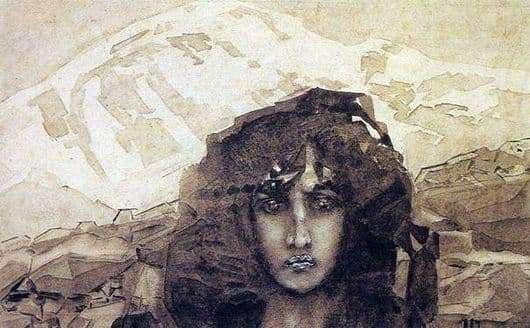 In the year when Vrubel moved to Moscow, he became acquainted with the then famous writer Konchalovsky, who was working on publishing Lermontov's works. He ordered from the artist several illustrations to the works of the poet – including the "Demon".
All the illustrations to the poem (although, judging by the richness of the palette, these were, rather, full-fledged paintings) were made in black watercolor and were distinguished by semantic completeness.
Vrubel worked especially hard on "The Demon's Head", because the film had an important role to play – to be the title. Contemporaries were attracted by the unusual interpretation by the artist of the main character of the poem, which, as can be seen from the image, was by no means grieving and suffering.
On the contrary, the Demon is full of the energy of thought, he is ready to ask again and again, seeking to find a solution to the eternal questions. The face seems to be burning from the inside with a flame – this can be seen in the eyes and lips of the Demon. The latter especially attract the attention of the viewer.
Another feature of the image of the main character is the connection of female and male traits in it by Vrubel, which should only emphasize the universality, archetypal character of the image. Also note that the background on which the face of the Demon is placed is somewhat similar to the canvases of another Symbolist artist, Klimt.
It is hardly surprising that the hero of Lermontov's poem was so interested in the artist, who subconsciously transferred to himself some of the features of the Demon – his search for solutions to the eternal mysteries of life that are metaphysical in nature. Unfortunately, modern critics did not understand the illustrations of Vrubel.
The artist was accused of rudeness and ugliness of the lines, in that Lermontov's plan remained completely incomprehensible to him. Now it has become a common place to recognize paintings depicting the Demon (this canvas also applies to them) to the top of Vrubel's creativity.