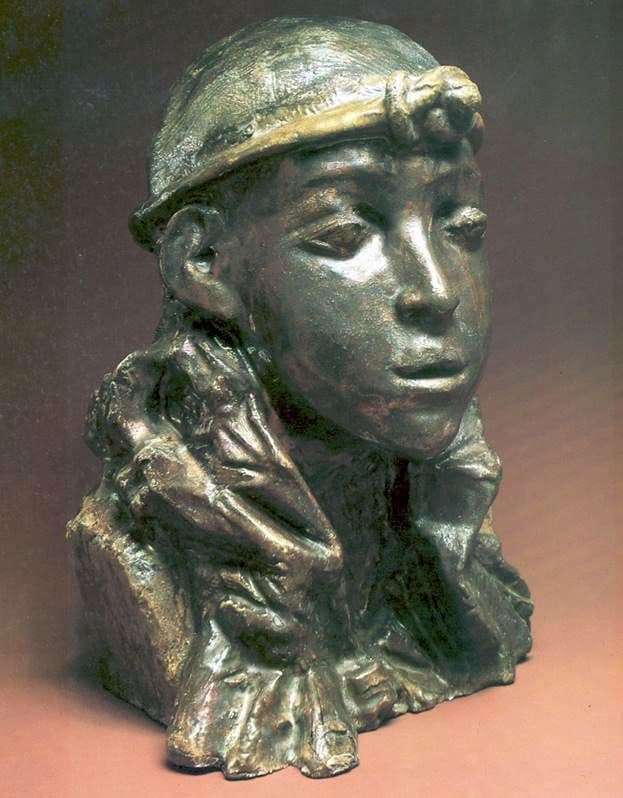 Ceramic sculpture "Egyptian" was created by artist M. A. Vrubel in 1891-1896, when he only began to get involved in the manufacture of products from this material.
The creator has depicted a beautifully plastic female face – beautiful and refined. The lips parted in a quiet whisper and seemed to freeze in motion, and the eyelids half-closed their eyes, giving a look of mystery and tranquility. Neck girls hug kinks scruffy scarf, wearing a rounded hat.
It is interesting to note that a straight nose and subtle eyebrows do not allow to read the emotions on the face of an Egyptian woman at a glance. She seems to beckon her interlocutor into an uncharted new world, makes promises and hopes, charms with a strange scent, but he cannot understand whether she is telling the truth or not.
"Egyptian" is made in the style of symbolism. The bronze coating perfectly conveys the spirit of ancient Egypt. The golden tint of the sculpture makes you think about the hot sands and the breath of the scorched desert, and the dirty dark tones – about the darkness and cruelty, soaked through the history of the great state.
The first association that arises when looking at Egyptian is the opera by D. Verdi's Aida. The daughter of the Egyptian pharaoh Amneris charms with her tenderness, and feigned words fly from her lips. She is wrapped in clothes and hides her true nature under the mask.
The sculpture is made in the characteristic stylistics of the author of that time. Vrubel inspiredly mastered the material – liquid ceramics spread out with uneven lines and formed into folds, languid looks, regular facial features.