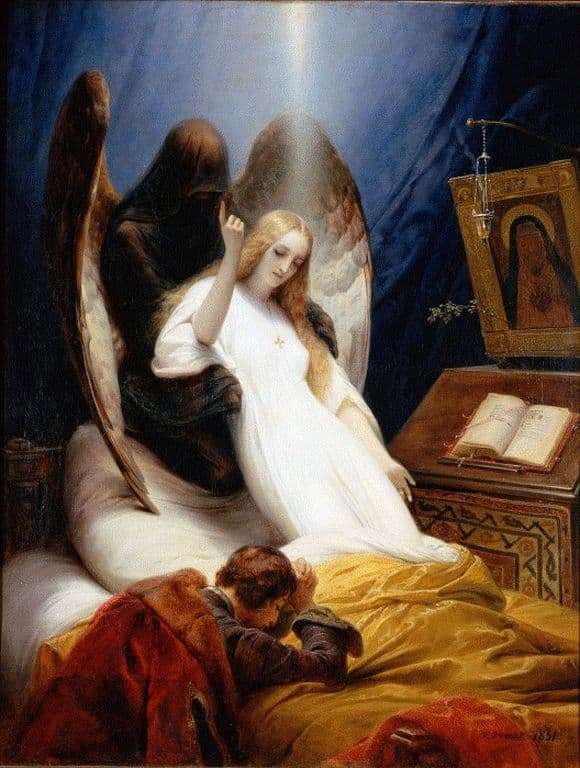 Emile Jean-Horace Vernet was born in Paris in 1789. His father and grandfather were famous masters of painting in France, whose talent was also inherited by Horace. Following the example of his father, Vernet becomes a diplomat and all his life he enters the circle of high-ranking and influential people, taking advantage of the favor of all regimes and rulers of France, who also highly valued his work.
Verne's favorite theme was the battle scenes, which he wrote exclusively from eyewitnesses, never having been on the battlefield. As a diplomat, the smallest details of equipment, the nuances of the situation and the circumstances of certain events were always important to him, and as a realist in painting, accuracy and richness of colors, clarity of lines and naturalism of forms and materials. In addition, portraits of the artist, which he did for prominent political figures and top officials of some countries, were very popular. So, he painted portraits of Napoleon, Nicholas I, General Morillo, Count Togliet, Duke of Chartres.
Religious themes are not typical for Verne, but the Angel of Death painting created by him in 1851 still causes the audience a lot of strong and bright feelings and underlines the master's quivering and subtle attitude to the issues of faith and spiritual salvation.
According to the Bible, angels are creatures created by God for "spiritual ministry", they are endowed with tremendous knowledge about the world and human psychology, have special abilities to penetrate space and time, and perform certain functions in the service of the Lord or fallen angels – with Satan. As follows from Genesis, the Psalter, the Gospel, people are angels in a human, usually masculine manner, but the Bible warns to make unequivocal judgments about their nature, since all these testimonies are rare and most often are human speculation.
In the painting "Angel of Death", a Christian girl in snow-white robes, who had just died, apparently from a serious illness, took the center stage, since a young man, killed by bitterness of loss, folded his hands in bed of prayer. Behind the deceased is the figure of an angel in mourning dark robes, who carefully picked her up under the arms. The girl's face is emaciated by illness, but at the last moment she gets rid of physical suffering and takes a peaceful and calm expression, and a finger raised to the sky seems to have opened a gap in the sky, from where the warm radiance of the Kingdom of Heaven spills onto her.
The Psalter is uncovered on the lectern near the bed, the lamp still burns near the icon of the Mother of God, a willow twig seemed to be stuck yesterday in the kyote with a thin, light hand of the room dweller. And if you look at the picture from afar, it seems that the figure of the angel dissolves against the background of the wall, and the beautiful wings, carefully drawn by the artist, belong to the girl in white. Maybe she will become an angel? Or already become? Or was he and returning home? Who knows…