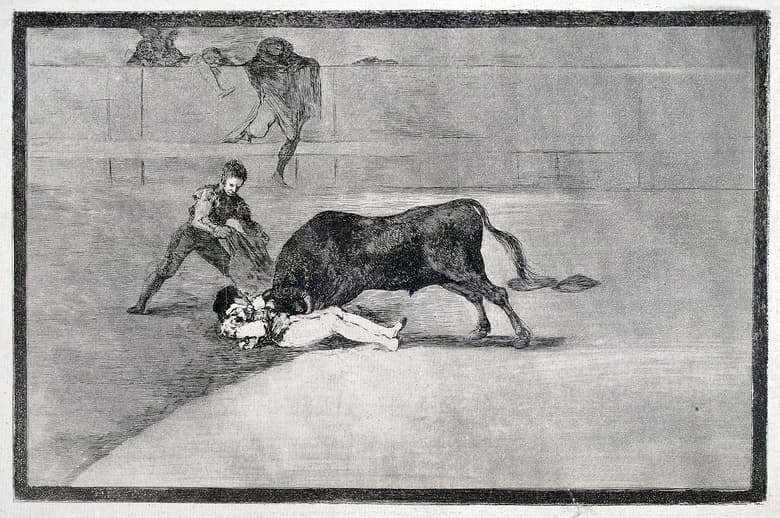 "Tavromachia" was published by Francisco Goya in 1816. This is a series of 33 etchings that describes the feats of a bullfighter in the bullfight arena from antiquity to the time of publication. The entire collection of drawings is depicted in black and white. Each sheet depicts a separate scene of bullfighting and is devoted to something outstanding and the general mass of events. Goya paid great attention to the writing of animals. He depicted bulls as shiny, with a drawing of each of their muscles. He portrayed the militancy and power of these animals, emphasizing these all the complexity of the task and the heroism of the bullfighter. After all, not everyone will go to fight with the power of a bull.
The artist dedicated five etchings numbered 15, 16,18, 19 and 33 to the bullfighter Pepe Ilo.
Etching No 33 is dedicated to the death of this brave bullfighter in the arena in Madrid.
On this etching, Goya portrayed the bullfighter lying in the arena, into which the horns of a ferocious animal were pierced. His body lay at the very hooves of a bull. Help came to help the deceased, but it's too late.
By giving, the artist wrote off the image of the brave bullfighter Pepe Ilo, to whom he dedicated five sheets of etchings, with the real bullfighter Jose Delgado. In real life, José killed two thousand bulls in real life and died in the arena in Madrid in 1801 from the death blow of the bull Barbudo. Jose himself chose the bull, who played the role of executioner for him. The bull rushed to the matador after receiving a deadly strike, which surprised José. His last words were the words of surprise, because he believed that he had killed an animal.
So the real story was transferred to the works of Goya in the final stage of "Tavromachy" etching No 33 about the death of Pepe Illo in the arena of Madrid.
To date, "Tavromachy" Francisco Goya is stored in the National Library in Madrid.