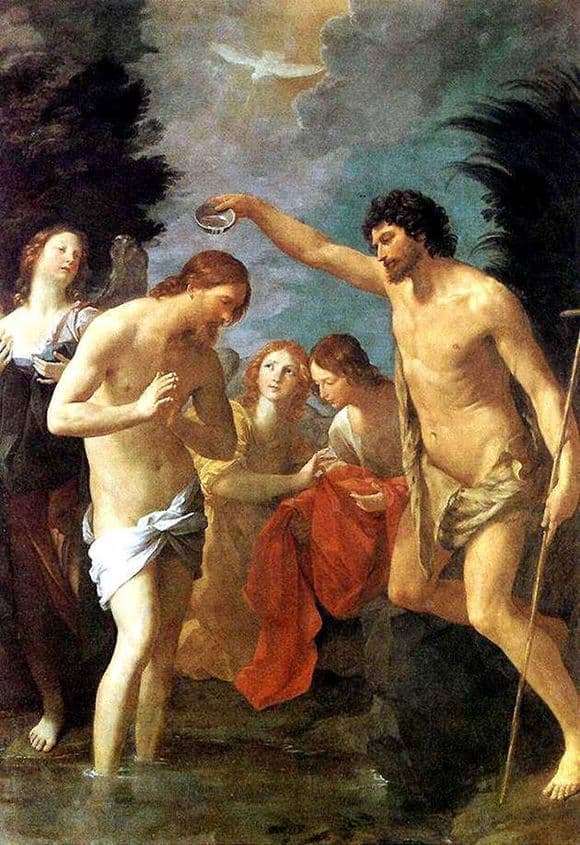 Renee in his own way depicts an episode that is well known to everyone. He created this masterpiece at a time when his work was experiencing rapid flourishing. Christ was baptized, and we see the moment when he is already gone out. His head is bowed, and his eyes are modestly lowered. All this suggests that he is incredibly subdued.
Most of the canvas is occupied by John the Baptist. If we take the physical plane, we can say that it is he who dominates in this picture.
The color solution is incredibly simple. The painter seeks to emphasize the spirituality of the event, which he depicts. In this picture, you can highlight several plans. On the front is John and Christ. On average – the angels, and in the background – the landscape. Reni uses a special rhythm of a circular character with the help of gestures and views of all the characters in this picture. This is necessary in order to focus the audience's attention on the experiences of Christ.
In the process of baptism, man is purified and regenerated. The mystics were convinced that this rite expressed humility. The treatment of the artist is almost the same. We see Christ, who is unquestioningly subordinated to the will of God. That is why his back and knees are bent and his head is bowed. The whole pose speaks of complete submission. The figure is illuminated by the bright rays of the sun, but only on the top and left. The chest is completely immersed in the shadow, but at the same time the right hand is wonderfully illuminated by light.
Right behind Jesus is an angel. The gold of his garments became the backdrop for the left hand of Christ, which miraculously appears in the shadows. In the hands of an angel of Jesus clothes. He looks at him very carefully. This position was then repeated by many artists.
The artist skillfully plays with contrasts. The angel's hair is painted in a pleasant golden-red tone, which contrasts effectively with the cold sky. Renee was a true master who could write a gospel story so heartfelt and lively.