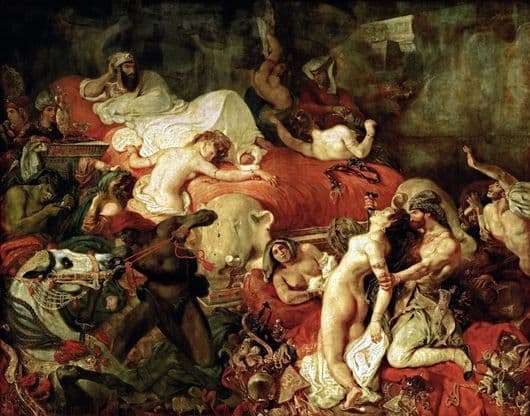 The poem, written in 1821 by Byron based on the legends of King Sardanapale, after 6 years, led the legendary creator of large-scale canvases to create a great dramatic composition.
In the picture we see how the great Sardanapalus reclines, leaning on its own bed, at a time when the enemies are ready to break into the besieged city through the holes in the walls of the fortifications. The king quietly observes an eerie sight of bloody slaughter and incredible confusion.
All the characters in the picture, except for quietly watching all Sardanapal and the servant, who helpfully gives him a cup of poison for the purpose of committing suicide, are weary from the hellish pain, violence and fear. This masterpiece of Delacroix is a distinctive canvas, characteristic of the French romantic direction at the beginning of the 19th century. The power of energy, the cold brilliance of gold, and the luxurious radiance of stones are also perceptibly present in it. And the author conveys all this luxury, using bright juicy colors, which causes a large clear strokes.
According to legend, Sardanapal reigned Assyria (VII century BC), where he led a luxurious and dissolute way of life. And when the Indo-European tribe of the Medes laid siege to its capital, after two years spent by the inhabitants in the besieged city, the enemy decided not to surrender: the city and all its wealth were ordered to be destroyed. He himself prepared to take poison, but before that he ordered to burn his wives, servants, and all the treasures in the big bonfire with him. He didn't even regret his beloved – the concubine Mirra, she was given the special honor to mix her ashes with his.
This terrible fire blazing almost 15 days. The spectacle is not for the faint of heart! The picture in other matters, too, causes a storm of emotions and feelings not at all positive. Particularly striking detail on such a large canvas.