Description of the painting by Hieronymus Bosch "Haystack"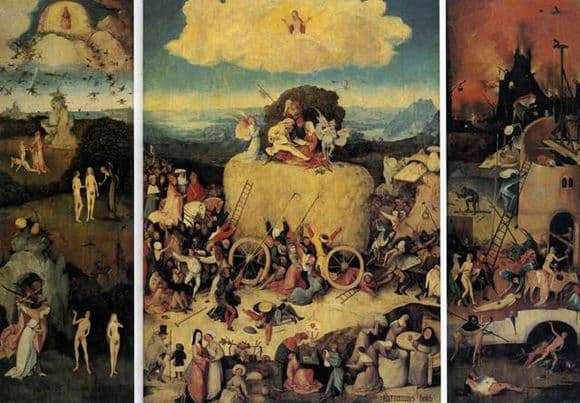 At the time of the decline of the Renaissance and the flourishing of the Inquisition, society was filled with disturbing prejudices and superstitions. The artists who created in these rebellious times, as they could, tried to clarify the view of the world. Hieronymus Bosch writes from 1500 to 1502. large-scale triptych "Haystack".
The central canvas of the triptych is twice as wide as the side flaps. But they are all united in one plot. On the left – "The Fall" – the biblical story of exile from paradise is told on different plans of the picture.
The middle of the triptych is occupied by the "Haystack", or the artist's view of worldly life. According to the Dutch proverb, the world is a haystack, and a person wants to grab from him what he takes. Just this image formed the basis of the composite center of the entire canvas.
A tall haystack lies on a wagon, which is being
dragged into the underworld by strange beast-like creatures. Bosch artfully writes fantastic servants of the Devil. Their faces are like wolf, fish, lion and bear heads, but their legs remain human. A crowd of people is flickering around the hay. Fascinated by greed, they fight for coveted hay. Someone falls, getting under the wheels of the wagon, others want to get to it using the stairs. A carriage is followed by a diverse crowd, where peasants, townspeople and even the emperor himself are seen with the Pope.
In the foreground sits the figure of a stout servant of the church. Several submissive nuns offer him their prey.
On a cart, loving couples are sitting in the company of a music devil. On the other side of them is the praying angel. He calls on the Most High in the clouds to have mercy on the fallen people. After all, all of them waiting for hell, which is depicted on the right leaf of the canvas.
Bosch created a beautiful moral picture. The main symbol of which is hay as an allegory of the worthlessness of earthly riches.





(
1
votes, average:
5.00
out of 5)
Description of the painting by Hieronymus Bosch "Haystack"