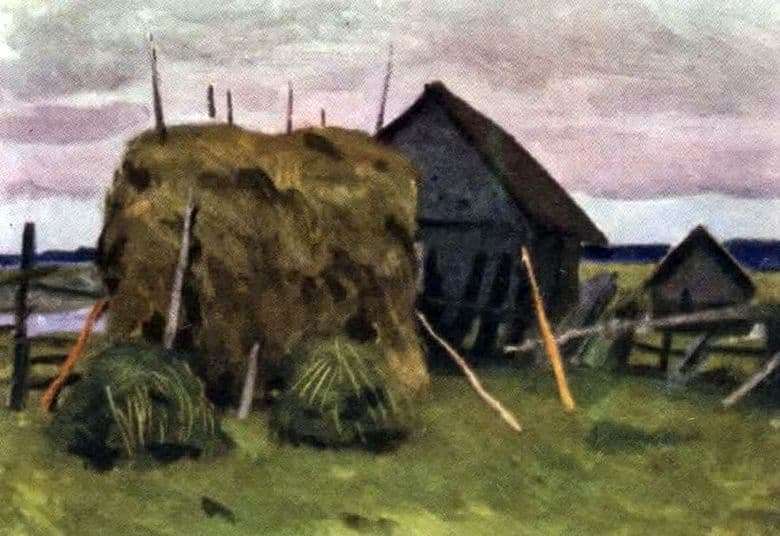 Pavel Fedorovich Sudakov traveled a lot around the country, painted portraits and historical paintings – but it was his landscapes that glorified him. Traveling through the Russian North, discovering Belomorsk and Sumy Island, the artist, who had previously specialized in portraiture, began to write very special pictures of nature. Pines, ancient tenements, fabulous sunsets and sunrises, the cold north sea became the main characters of his works. And the natural phenomena performed by the artist have become no less spiritualized and alive than human portraits.
In the painting "Towards Evening," we see a simple, unpretentious landscape, typical of northern Russia of that time. A cold, low gray sky covered with clouds almost to the horizon. Dim green fields, dug in with hollows and covered with low flat hills. Small pond in which the clouds are reflected. An old, leaning gloomy house surrounded by a curved fence.
Outbuildings are as frail and poor as the house itself. And finally, in the foreground – a large haystack, supported by long, curved islands. Everything drawn in the picture, it would seem, should be depressing and gloomy, hopeless thoughts. But the artist writes the restrained beauties around him with such love and attention that one can unwittingly feel the desire to go to this harsh, gloomy region.
Today, after some time, one can say absolutely definitely – the North has opened to Russia an absolutely new Pavel Sudakov. Without changing his constant habit of grasping the very essence of the portrayed, Sudakov portrays the northern nature spiritualized, strong, majestic – the same as the people of the Russian North. In 1982 he was awarded the title "People's Artist of the RSFSR".