Description of the painting by Alexei Stepanov "moose"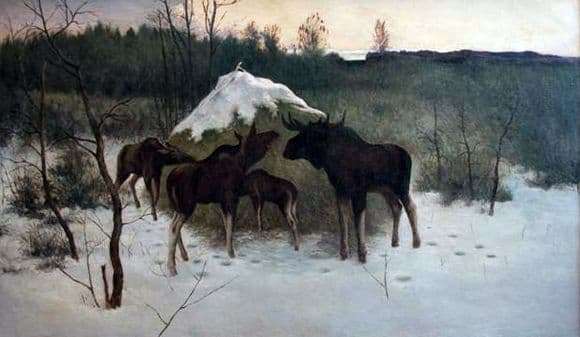 Stepanov loved shades of brown and gray and often used them in his paintings. We see one of the gloomy days of winter.
Grey sky. It practically merges with this majestic snow which has carefully covered the earth. A certain border is only a forest. The artist depicts a haystack, which is covered with snow on top, as if by some kind of fluffy hat. Here came the moose. Two of them are adults, and the other two are still elk.
One animal impresses with the beauty of wide horns. Elk tensely looking somewhere. It seems that he is trying to hear the slightest rustling. The artist skillfully writes the coarse, short hair of these animals. The heads are large, and the faces are slightly elongated.
Winter is a difficult time for all moose. They are not afraid of the cold. But hunger is really a real threat. Constantly have to migrate to find at least some food.
We understand that moose did not come here by chance.
The artist managed to capture just this amazing moment. Cloth it casts a certain sadness. We want to somehow help these gigantic animals so that they can survive the cold. The elklings are especially touching.
The canvas impresses with the magnificent poetry of a fading day. The viewer can see a quiet frosty day at the very beginning of winter. The artist with special love portrays moose. Stepanov managed to convey the true beauty of Russian nature. He skillfully imposes strokes with his wide brush. The play of light and shadow is impressive.
With all the monotony of colors does not create a feeling of monochrome. The creation of the artist is truly alive. It seems another moment, and we will hear the crunch of snow and feel the gusts of a cold winter wind.
The artist with love depicts all the details. One has only to pay attention to the grace of the moose, small footprints in the snow, the dull branches of the trees. There is nothing superfluous. In everything, one feels the hand of a true master who has managed to convey the charm of his native nature.





(
2
votes, average:
4.50
out of 5)
Description of the painting by Alexei Stepanov "moose"