Description of the painting by Isaac Levitan "Twilight"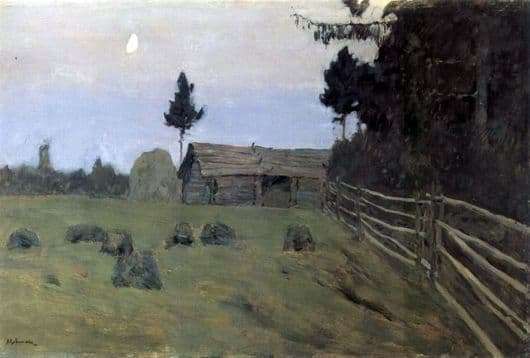 The story of the creation of the picture is quite prosaic. Isaac Ilyich Levitan wrote it specially as a gift to A. P. Chekhov, who was in the Crimean sanatorium and missed his native lands very much. Most likely, this is why Levitan depicted in his picture, as close as possible, everything that was so close and familiar to Chekhov, and that subsequently contributed to his speedy recovery.
The artist surprisingly accurately selected the time for writing this picture, when the working day is already over, as shown by the haystack, near the house, and the fact that there are no people around it, dusk comes and the working day comes to an end. It is quite difficult, because the very transition from day to night, namely twilight, is rather transient, therefore it was necessary to be as concentrated and as fast as possible, and that much is important to do the job well.
In this picture we find nature in some kind of transition
process. It seems that all nature begins to wear a night shirt at this moment, and is getting ready for bed. The moon begins to rise into the sky, behind the house is a tree, which most likely belongs to the conifer family. But the beauty of this picture is that the very essence of the state of nature, when dusk sets in, is conveyed in it, and no matter what kind of tree it is, how long this house has stood, and so on. Nature is revealed to us as completely as possible, at this moment it is completely under the "power" of the artist. All the mystery of nature, as if caught by surprise.
The beauty, which is observed when changing the day dawn, to the evening mist descending on the house, careless strokes with which Levitan seemed to specially emphasize this hand tremor, rather exciting moment of unthinkable and bewitching beauty of nature. It becomes clear that small details are not important, both in the picture and in nature. Important common thought, semantic load.





(
1
votes, average:
5.00
out of 5)
Description of the painting by Isaac Levitan "Twilight"