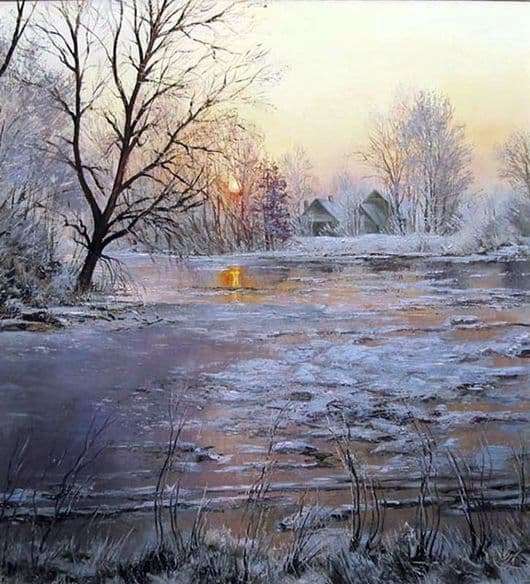 Alexander Popov always sought to see something new in what seemed to be ordinary pictures of nature. He tried differently to read all the diverse beauty that exists in it. It is also important that he shared this unusual vision with all the spectators of his creations.
The tree in the foreground is clearly spelled out, and those that are in the background, as if in a haze. They are covered with fabulous rime and powdered with snow. The spectator is in a fairy tale, where everything is magical and unusual. But in fact, Petrov depicted the usual rural landscape. Everything is quite ordinary, but at the same time magical. This is the true mastery of the painter.
In the picture "Ice" we see a frozen river, lightly powdered with fluffy snow. What color is it? Everyone is used to that white. But, if you look at the snow in winter, it is impossible to see a truly white shade. Here it combines so many shades of gray and blue, which is simply amazing. The dark yellow winter sun illuminates the entire sky with its bewitching light.
It is also reflected in the frozen river, as if a certain charming light that came from a fairy tale. With the seeming gloominess of colors, it is he who warms the whole picture and illuminates it with a soft light. Contrary to the existing idea of ​​the absolute transparency of ice, in fact, in it, as in the snow, many shades are always connected. It is both dark gray, and bluish, and almost black. It's amazing how exactly the painter managed to notice it.
The artist managed to convey all the colors of winter nature. If you distract yourself that this is a picture, you get the feeling that we are facing a professional photograph. All details are so precisely written. But at the same time, we feel the presence of Petrov himself. Not everyone can see the beauty in the ordinary, something new in everyday life.