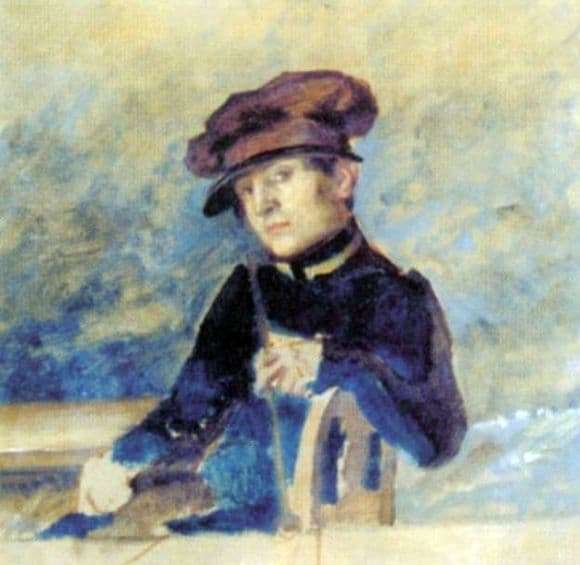 The painting "Self-portrait" is one of the most popular works in the works of A. I. Ivanov. It is different from most paintings by the artist. The work was written before the trip to Germany, this event forever changed the life and worldview of the creator. He came from Europe he is a completely different person and artist.
The portrait depicts himself A. A. Ivanov. His eyes are piercing, and his lips are tightly compressed. The clothes are modest, you can't call this young youth dressed in the latest fashion, except that a headdress can give him a creative nature. This is a young artist full of hopes, who is not yet tempted by life temptations, he is full of desires and inspirations, he has everything ahead.
So it happened in reality, foreign trips, fame and success did not leave the artist. He was not a representative of the loud family and the ideal pedigree. His father was a foundling and did not know his own kind, although such a difficult situation did not prevent him from finding his place in life. The portrait reflects the simplicity and naivety of the young man.
It's amazing how realistic the artist conveyed himself. With his left hand, he holds on to a belt slung over his shoulder. The usual gesture, but it has a deep philosophical implication. The hand is located near the heart and thus indicates the identity of the artist himself. AA Ivanov points to the heart, and by that he pays attention to the individuality of a person, his spiritual world.
External data fade into the background. All works of the artist have their own character and feature. Self-portrait conveys the spiritual fullness of the author, his articulated personality.
Despite his young age and rustic look, his creative ideas and inner world were formed long ago. He is ready for victories, impressions and achievement of new creative peaks. This work for the artist became a landmark, he captured himself at the origins of his creative career.