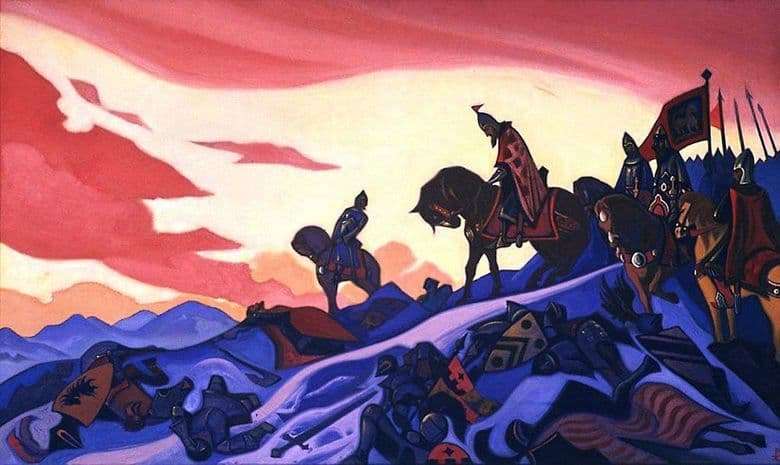 The painting "Alexander Nevsky" was painted in 1942 in honor of the 700th anniversary of the Battle of Lake Peipsi. In the war years, when the topic of patriotism became more relevant than ever, Nikolai Konstantinovich Roerich repeatedly turned to the heroic pages of Russian history. His heroic cycle included such works as "Yaroslav", "Victory", "Mstislav the Remove", "Boris and Gleb" and others.
The canvas depicts Alexander Yaroslavich, who received the nickname Nevsky for his victory over the Swedes. The picture strikes with bright colors, contrasting and clear lines. The crimson skies personify the heat of the battle that just ended. On the snow under the hooves of the horses, the victors of the body of the defeated enemies – the Germans. Pinkish reflections in the snow – not only a reflection of the sky, but also the color of blood mixed and dissolved in snow. Sunset paints and grayish haze convey the twilight silence.
The battle is over. Silhouette of Alexander Nevsky, slightly bowed his head. He pulls for a reason, and the faithful horse crouches, slipping on a steep slope. Stopping, the prince peers into the face of a fallen Russian soldier. The one in a bright red raincoat lies on his back, spreading his arms to the sides, and his face clearly emerges against the background of a purple sky. Warriors following the prince also stopped in grief.
Not the joy of victory depicted the artist, but the bitterness and horror of any battle, the price that must be paid for the triumph. Nicholas Roerich showed the grief of the commander and the army of the dead brothers. The chosen plot emphasizes the peculiarities of the sensitive soul of the Russian person, who can regret and sympathize.