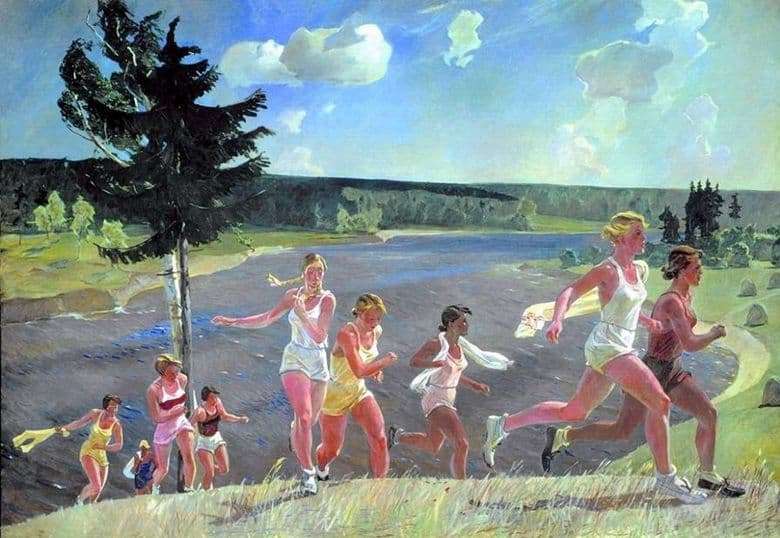 Hot sunny summer, the joy of youth, the riot of colors – all this was captured by Alexander Alexandrovich Deineka in this picture. On it, he depicted a group of girls running up the hill after bathing. The picture looks very dynamic due to the photographic effect.
The artist caught one moment from the seething reality and conveyed it in all its details through his work. Everything in the picture has its movement. Clouds are swiftly floating, the branches of the old fir and birch are swaying, broad waves are rolling on the river, young sportswomen are running fast. If you look closely, the movements of each object are directed in one direction – from left to right. Nature seems to share the joy of girls and encourages their energetic run. The impression of all-consuming energy. I want to succumb to the impulse of youth and after the athletes run somewhere off into the distance.
The plot depicted in the picture is close to every Soviet person. The landscape is characteristic of the nature of central Russia. Images of girls, ranging from the type and ending with the appearance of their clothes, could be met in everyday life. Through the picture, Aleksandr Aleksandrovich sought to convey the happiness of his youth, when he wanted to run headlong wherever his eyes were, and from overwhelming joy, he was pulling up soaring.
It is characteristic that the girls move exactly up, and do not go down the hill. Allegorically, the artist depicts through their image the Soviet people, surrendering to the idea of the rapid development of the state and confidently and swiftly following to a bright future. Alexander Aleksandrovich himself believed in this, therefore his painting "Expanse" is saturated with communist pathos and the viewer's metaphorical appeal to share with him the joy of building a new world.