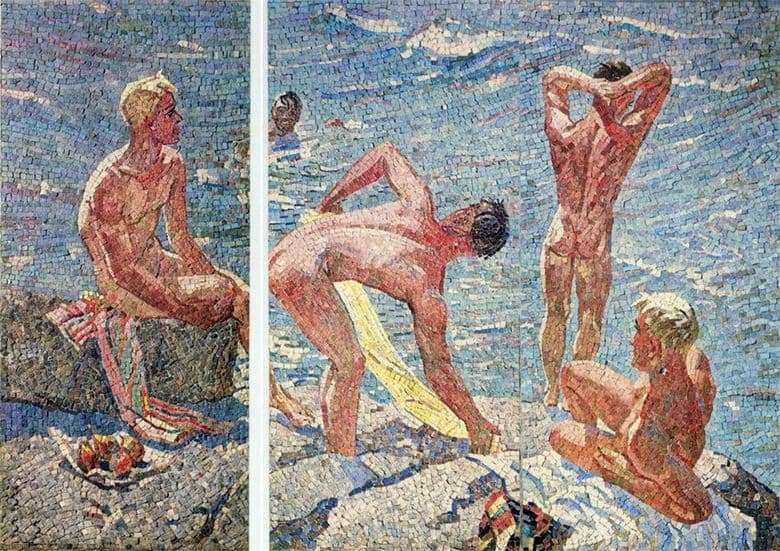 The panel "Good Morning" is made in the mosaic technique characteristic of monumental art. He is considered one of the brightest examples of social realism in this genre. Cloth surprisingly accurately reflects the era.
The focus is on a group of young boys who meet a new day on the rocky shores of the sea. Deineka is not afraid of nudity and even emphasizes the relief of male bodies. However, nudity is unobtrusive and does not cause a disturbance of the viewer. The heroes of the panel do not hurry anywhere and combine bathing with breakfast and board games. The theme of sport and a healthy lifestyle can be traced in every detail of the mosaic. Moral beliefs, physical strength and confidence in the future are read in the attitudes and postures of young men. The author himself sincerely shared such beliefs. In his work, the artist decided to open to the viewer an interesting and colorful world in which young and strong citizens of socialist society live.
To create the panel, Alexander Deineka used glass smalt, calcite rocks and Metlakh tile. The mosaic technique he considered a powerful tool of monumental art. Using the volume of the room and the special properties of the material, the artist created an exceptional "power of color". "Good morning" – a good experiment with mosaic modules. The panel consists of three parts, but disharmony and violation of the integrity of images is not observed.
The work of Alexander Deineko received the Lenin Prize for the implementation of the creative idea and style of execution. This is one of the highest awards in the field of visual art.