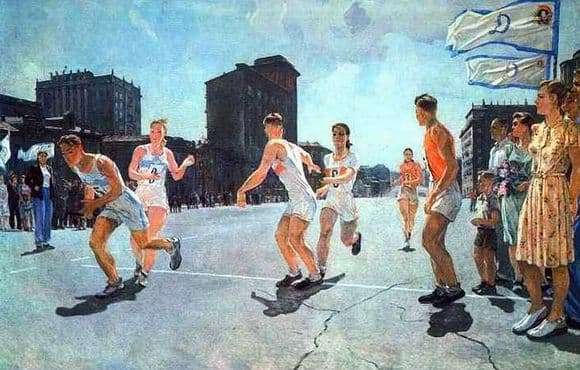 Among the famous Soviet painters, Alexander Deineka became famous as the author of life-affirming solar paintings dedicated to the perfect moral and physical appearance of a person.
The artist wrote canvases about sports, about the eternal movement of a human being for the better. He openly acknowledged his sincere admiration for swimmers, runners, skiers and wrestlers. In his opinion, sport is able to ennoble, heal and educate.
"Relay" – canvas 1947 writing. In the early postwar years, an atmosphere of new hope, rebirth and peace reigned. Deineka captured this pore in the created canvases.
"Relay" was embodied in the sketches of the painter, made on the day of the May Day celebration. Then in Moscow on the big avenue – the Garden Ring – traditional sports competitions were held. We see a wide road marked by a white dotted line, closely standing high-rise buildings on the side of the road. A green flowering tree between the buildings and a fresh bouquet of lilac in the hands of a woman echo spring, May and a good holiday.
There are not so many spectators of the competition. But all of them: married couples with children, the military and the passers-by who were simply attracted by a joyful event – healthy, ruddy, strict, but smiling.
We see six athletes: three pairs of boys and girls. Their figures are stately, strong, strong; faces immersed in the process of sports game. A fair-haired girl, having already passed the baton to her partner, is smiling happily and happily looking straight into her eyes at the picture.
Flags with emblems of sports organizations fly over the heads of Soviet citizens. The sky calmly and peacefully covers everything that happens on the ring "B".
The size of the canvas is more than 3 by 2 meters. It is now in the homeland of its creation, in the Tretyakov Gallery, which is rich in world masterpieces.