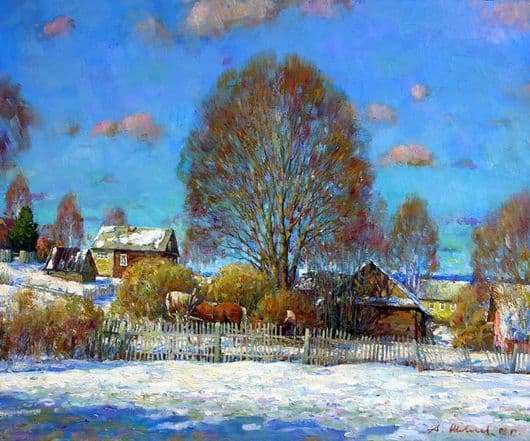 The picture March was painted by the Ukrainian painter Popov Nikolai Aleksandrovich in 1956 in oil on canvas. The size of the picture – 30 * 23. Currently, the canvas can be purchased at auction.
Popov N. A. is a graphic artist, a Ukrainian painter. Years of life 1927-1997. He graduated from the Moscow Polygraphic Institute, participated in regional and republican exhibitions. Nikolai Aleksandrovich began his creative activity during the Second World War. He worked and lived an artist in the city of Ivano-Frankivsk in Ukraine, although the last decade he lived in Kremenchug. Let's take a closer look at the description of the painting "March".
In the foreground is a large tree growing right along the road. It dissolves its first buds and leaves. The same trees are painted on the whole canvas. The fact that early spring can be guessed by the melt water, viewed literally in everything: a road flooded with water that reflects elements of the nearby landscape, shown in the foreground of the picture. Blue streams of water flow along and across the tracks.
Unlike the picture by Levitan of the same name, Popov depicts the streams of water, while Levitan depicts in his work in some places melting white snow and bare trees. Green grass is already visible on the ground. One of them leads to a rural area surrounded by a fence. Here the author draws a big house and outbuildings. In the background is a big house. And all this against the backdrop of a clear blue sky.
Although the picture depicts houses, it is not seen at all after human activity, only nature, which gives the picture, despite the spring, some despondency. There are no birds, no animals, only houses and plants. And, if it were not for the melt water, the viewer would have thought that the artist depicts autumn.