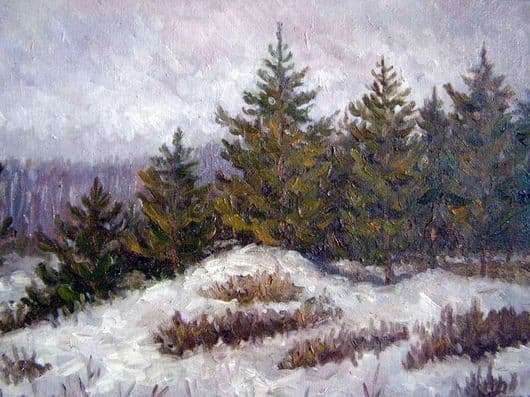 Popov Alexander Andreevich was a famous artist and an experienced teacher, the head of the Odessa school, later recognized as the best educational institution in the whole Russian empire. He painted portraits, landscapes and genre compositions, is among the hundred best painters of Ukraine. Alexander Popov was born in 1852 in the Yaroslavl province. His works are in private collections, in museums of Kiev and Odessa, Nikolaev, Riga, Ochakov.
The painting "February" is painted in oil on canvas, its dimensions are 40 * 60 cm. Popov depicts an interesting time of year, the end of winter, when winter has already ceased to be lyutovat, and is preparing to pass the reins of spring to spring. Snowdrops will bloom very soon, frosts will recede, buds will swell in the trees and the first grass will rise, the birds will sing and the mushroom pickers will go on their first hikes.
The artist shows the edge in front of the forest. It is covered with white snow, giving the blue. There are several logs in this snow. They are the same size and processed, which indicates the presence of human activity. Most likely, earlier trees grew on the edge of the forest. From under the snow also looks small bushes and hemp. In the background are many trees. They are all naked, without a single leaf, dressed in a snow robe.
Their tops, like tin soldiers, are directed upwards, which indicates a windless weather. There is no snowstorm, no winds, there is no need for winter anymore, they are going to retire. In the foreground, trees are rarely traced, paths are viewed between them, but the real thicket begins in the distance and all the trees are combined into one whole – the saying goes: "The farther into the forest, the thicker the trees grow". The sky is blue but gloomy. There are no sun rays in the painting, which may indicate that evening is coming.