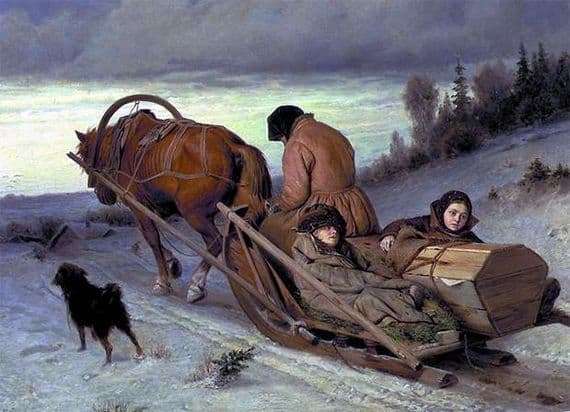 This picture has received universal recognition not only from the artist's contemporaries, but also from other "artists". For example, V. Stasov spoke in a positive tone about the "Wires of the Dead". For the first time in his life, Perov received a special award for his canvas, which was issued by the central exhibition hall of Russia. Also, the picture received recognition abroad.
He finished work on the picture of Perov in 1865, drawing on the canvas a simple Russian family, saying goodbye to one of its members. All the characters lowered their heads, all the while showing grief about the loss of a dear family member. An elderly woman, from impotence, simply lies next to the coffin, she is so heartbroken that she cannot even embrace the coffin, as does a young woman, perhaps the wife of the deceased. This touching scene of family love gives the viewer a deep feeling of regret for the loss of others.
The grieving people depicted in the picture would not have caused so much pity if it were not for the gloomy landscape in the background. Black and gray clouds have a significant psychological pressure on the viewer, they are even more aggravating the situation. Similar feelings are caused by the meager landscape consisting of gray snow and a few bushes desperately grasping at life.
In the picture, even the horse feels all the burden of his burden, not to mention the wilted head of the family, who has lowered his head. It seems that he does not hold the reins and the horse slowly walks, wherever he pleases. A faithful servant of the house – the dog barks desperately, emitting a long and melancholy howl.
Thus, Perov's "Seeing off a dead man" picture is not distinguished by good drawing of the landscape (he was never seriously interested in this direction), but the artist skillfully conveyed the depressed mood and sad atmosphere of all family members, depicting them with their heads down and their bodies weakened.