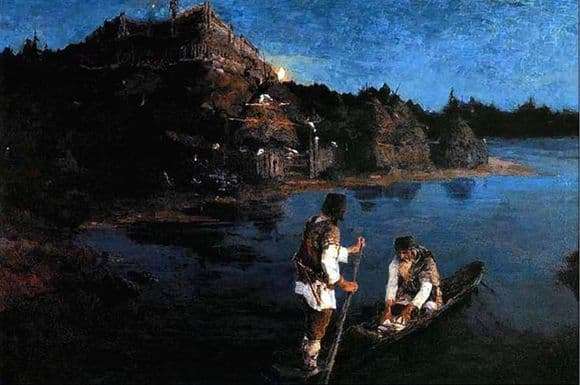 The famous Nicholas Roerich from a young age showed great promise as a future artist. At the final exam in 1897, after completing the basics of artistic mastery, Kuindzhi Roerich lit his guiding star in the boundless world of painting – presented the first painting "The Messenger" to the public.
The final work received many positive reviews, and Roerich was officially awarded the title of artist. She added confidence in her abilities to the new talent of the "Gonts" interest of the writer Tolstoy and, as a result, her purchase to the Tretyakov Gallery.
Roerich initially stood at a crossroads, equally passionate about the visual arts and archeology, ethnography, but he could not dwell on only one industry. This is read in the "messenger" canvas. On canvas, the young creator writes a history, a very ancient history, so long that it does not even preserve reliable data about those times. Only echoes of the 9th century, scraps, small particles are collected in the "Tale of Bygone Years", which the future great artist studied with diligence.
According to the data that came to that century, there was no agreement in the Slavic lands: now the raids of the Varangians, now the internal clashes. And now, having learned about the upcoming raid, the messenger hurries to the other side of the river with an alarming message: "the family has rebelled." The architecture, beliefs and the whole atmosphere of that era are detailed on the canvas.
On the hill stands an ancient Russian settlement, a palisade around it hung with skulls of horses – an ancient custom to protect against unhappiness. The picture is nocturnal, silent, two people in the boat are also quiet and thoughtful: in their lifetime Christian prophecy about wars comes true, it remains only to dutifully follow the intended path. The bright crescent of the moon peeps out from behind a hillock and illuminates the neighborhood.
The artist from the first attempts managed to apply the skills of the painter and convey to us his love for the secrets of history.