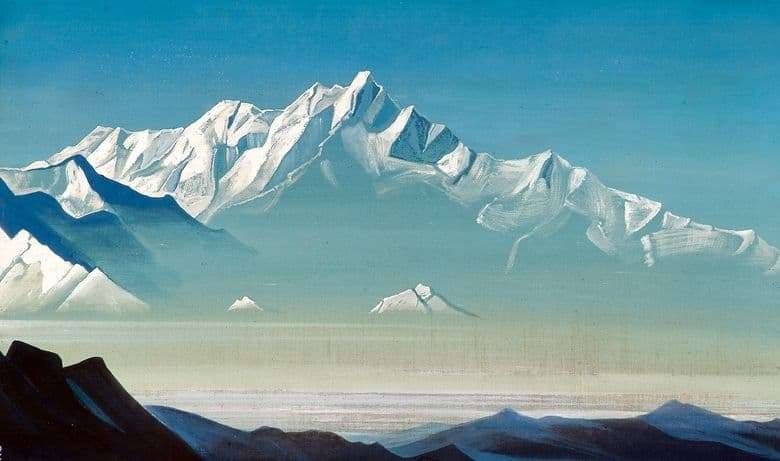 Nicholas Roerich – one of the best landscape painters of all time. Most of all he was always attracted by the mountains. He believed that it was in them our salvation and our future. This overt admiration for the creations of nature and captured the master on canvas.
The name of the painting is a reference to an ancient Indian legend. It is believed that when there is no food or water left on our planet, these mountains will save us. They feed us, they will feed. But their food will be invisible, intangible. Majestic mountains will be able to satisfy our spiritual hunger. As teachers, they will reveal all secrets to us, make us think. This food is enough for us, people, to continue to live. Roerich studied the philosophy of eastern countries for a long time, so for him these mountains have a special meaning. He truly believed in their magic power.
The second name of the picture is "Two worlds". What worlds are we talking about? Most likely, the author of the work speaks of the spiritual and physical world. Mountains embody both of these worlds. Their corporeal shell – unshakable centuries-old rocks. It is this world that opens to an uninformed person at the sight of the mountains. The spiritual world of the Himalayas is hidden from people. They hide within themselves the history of mankind, the history of our planet. When you look at them, you involuntarily begin to think about the future, about life. Apparently, this is the spiritual component of the mountains. The master managed to transfer these two worlds only with a brush and paints.
In this picture, Roerich depicted Mount Kanchenjunga – previously considered the highest point on the planet. Thousands of pilgrims and travelers come to these mountains. Roerich was one of them. The artist uses in the cold colors. In the foreground – a thick fog, which lies in stripes on the mountain range. Behind – the mountains. They are like ice blocks cut through the haze curtain and appear before us in all its majestic glory.