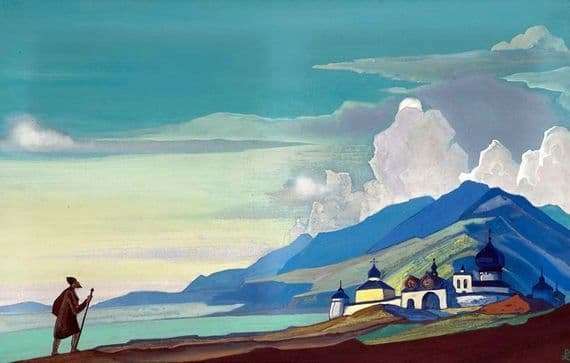 The canvas was created in 1933 in oil on canvas.
Nicholas Roerich is a unique person in Russian history. He was an artist, writer, philosopher, and archaeologist. He traveled a lot and was a public figure. During his life he wrote seven thousand paintings.
Roerich contributed to the church heritage of the country, engaged in the design and painting of temples. His work was appreciated during his lifetime, exhibitions always had a lot of visitors. There are many museums dedicated to Nicholas Roerich around the world. His activities included various areas of life.
Roerich created an expedition to Asia, which influenced his entire life and work. He also spent several years in exile since 1917. Under the influence of Asia, the teachings of the ancient sages, the Indian and Tibetan lamas, he creates literary works and canvases devoted to wanderings and the search for truth. They all impress viewers around the world.
The painting "The Wanderer of the Bright City" is one of the works devoted to the spiritual quest for truth. The picture shows the traveler, who, after a long journey, finally found a wonderful city. What is it? Shambala or Belovodie? Places that are looking for millions of travelers throughout the whole world to get answers and learn the knowledge of the ancient sages. Roerich depicted temples in this marvelous city to show that there can be no truth without religion.
Peace and harmony in the soul can only be found through God. Everything in this place suggests that the traveler will find his center of the world. Marvelous country, somewhere high in the mountains, which was written thousands of years ago. She seemed to go to heaven. Earthly paradise, filled with light, peace and meaning of life.
The plot of the picture is intertwined with all the other canvases painted by Roerich about the search for Shambhala, the city of the Gods, Belovodye and the center of the world.
The painting is in storage at the Roerich Museum. New York.