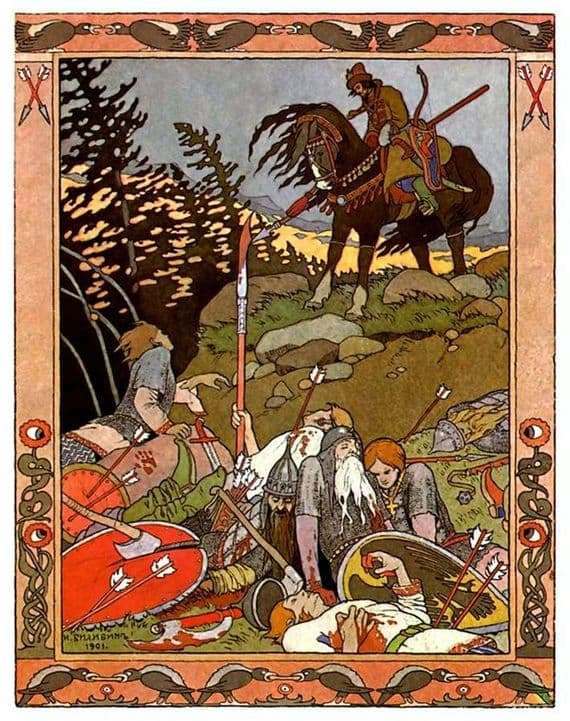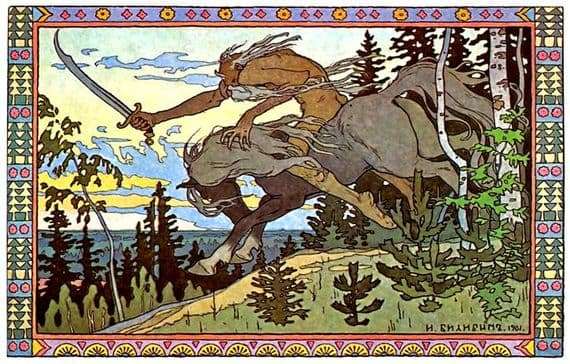 For four years, a talented artist Ivan Bilibin managed to write illustrations for seven tales. And although they are all not large in volume, but they are rather large-format. The most important difference between his works is considered to be the unique patterned pattern, decorative elements.
The author tried not only to create several separate images-episodes, he tried to unite into one idea, so that each of them would smoothly pass into another, and they all merged into a common ensemble. And so it happened: the cover, images, amazing framing Russian ornament, font – all of them were created based on ancient Russian manuscripts. The artist depicted all the inscriptions in the illustrations with an ancient Slavic script (including his signature), which cannot be read from the first time.
It is necessary, to take a closer look, to make out this intricate pattern and letters in order to learn familiar Russian words. The artist assigned special attention to his corporate decorative font. He was well versed in the fonts of various time periods.
Another feature of the work of Bilibin is considered a soft mix of antiquity with modernity. The images are always framed by fabulous ornamental frames, like wooden windows carved platbands. This is not just a decorative element of the page, each frame always has something in common with the captured plot.
The system of graphic techniques developed by I. Bilibin made it possible to combine frames with illustrations, to draw a unique style from a page on a page. Among the graphic features characteristic of him, extraordinary patterns, decorative style of color combinations, subtle visual embodiment of the fairy-tale Russian world, folk motifs and humor are distinguished. Flat album page, he animates a thin outline and color.