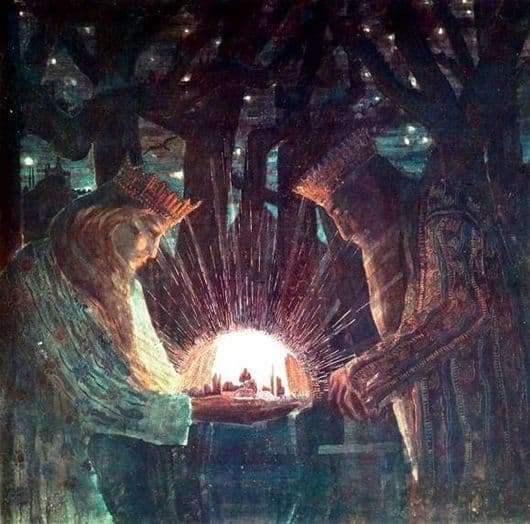 Combining painting and music seems an incredible task, but not for the Lithuanian composer, musician and artist Mikalojus Čiurlionis, who managed to make the painting literally resound, and the colors respond to the rhythm of music. This extraordinary genius of art, is the author of many musical compositions and artistic works. The young musician and composer Čiurlionis was unusually strongly attracted to painting, and he did not resist his own desire, but rather worked hard on himself as an artist.
Given the abilities of the Lithuanian artist-composer, it is not surprising that he wrote a cycle of paintings that transports the viewer to the world of fairy tales. The Tale of Kings is also written in 1909. Čiurlionis acts as an innovative artist for whom there is no niche in art, he is the first of its kind, he understands the world much more deeply and tries to convey images from his own world. In the painting "The Tale of Kings", provides to see two kings who can not tear his eyes from the fairy tale world in the palms of one of them.
Poet S. N. Borodin wonderfully described the picture in his poems; he calls this small world ideal, which must be especially cherished, at the end of his poems makes it clear that such a kind, bright phenomenon in the king's palms is love.
And indeed, what can be so beautiful and innocent, and at the same time so majestic and powerful as love, she is not subject to even the great kings themselves, she can only be found and cherished.
Such an understanding of love is very curious, since it does not have a material form, but the artist uses a fairy tale to depict love and shows that this great human feeling has something magical, unique in itself, something that cannot be explained, but can only be felt.