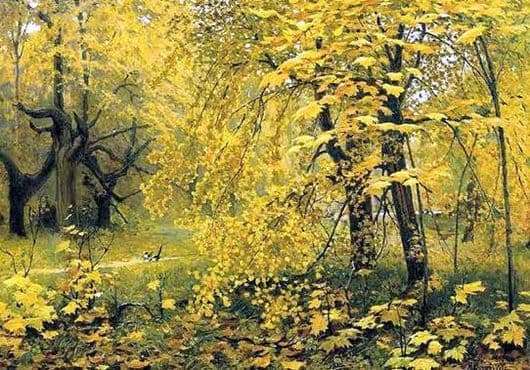 We have before us a rather bold decision of the artist to depict autumn in the forest, almost through the interlacing of the branches – there are no rivers, clouds or rain in the picture (the usual signs of autumn) are barely visible, among the golden fall foliage, blackening tree trunks.
The sun, obviously, has risen not so long ago, in the picture, judging by the shadows and the revival of two forty on the forest path, already close to noon, but still – the first half of the day. Very rare in its sophistication landscape in gold tones. Among the leaves one can see several red ones, one can see black and white "tails" forty, but the glow of foliage saturated with sunshine prevails over the whole range. In some places there are islands of green grass, still summer-like, between the branches and falling leaves one can see a dim blue sky – but this is not what fascinates on Ostroukhov's canvas, but how he managed to convey the "dance", the swirling flight of falling leaves.
The whole picture is filled with some kind of joyful movement and is a very "talkative" picture for the sophisticated viewer. "We are happily spinning!" – the rustling of leaves informs, "now and we will fly away!" – the lively magpies merrily warn. The trunk of an oak tree in the background, which was woven over smaller trees, on the contrary, as if telling the viewer about the resilience of the forest: "we will survive this autumn!". And, as a result, the city dweller, who even looked in the dank autumn to the museum, would move away from this picture with a feeling of joyful amazement. And with the desire to get out into nature. Or, at least sit in the "Abramtsevo Park", as the second famous autumn landscape of Ostroukhov is called.
The picture is full of miracles: it is rare to see in the landscape an image of the forest "rejoicing" in early autumn. And this is so amazing that Ilya Semenovich Ostroukhov never studied professionally for an artist, he took only private painting lessons. And it is very unfortunate that his landscapes are less known than the paintings of Shishkin, Levitan or Polenov.