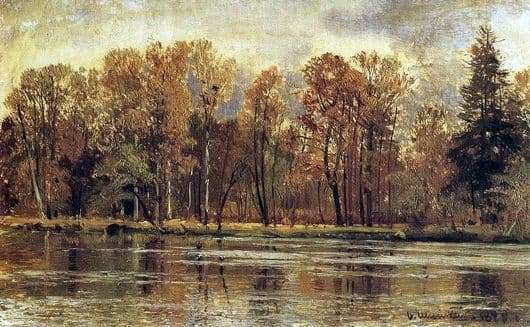 In 1888, Ivan Shishkin, master of landscape art, wrote his painting "Golden Autumn". Currently, it is stored in the Tretyakov Gallery. The picture is very fond of the viewer, as well as the most popular work of Shishkin "Morning in a pine forest", which he wrote in tandem with Savitsky. In contrast to "Morning", in the painting "Golden Autumn" Shishkin depicts not the forest, but the autumn nature, as evidenced by the name of the picture.
From a glimpse of Shishkin's "Golden Autumn" picture, there is a quiet divine transition of nature from one current to another, during the mystery of autumn. Nature, as if falling asleep, pleases with its sleepy beauty at a nearby lake.
In this picture Shishkin every detail of autumn nature is pronounced. The canvas is flooded with yellow sunlight illuminating yellowed autumn foliage. The whole picture is saturated with golden shades, creating the impression that nature has put on the most expensive clothes.
As if hinting at the excitement of the environment in front of the oncoming rain, the clouds covered the sky. At the same time, the sky is depicted in yellow tones, and not in gloomy gray. It seems that the quiet harbor of a beautiful place of nature will soon explode with a magical whirlpool of yellowed leaves, leaving interesting ikebans on the ground.
A light breeze sways the crowns of trees, as if inviting to a dynamic dance of beauty. Fallen leaves, like a blanket, lie on the water. The water is very colorful depicted by Shishkin, it reflects all the beauty of autumn splendor and fallen leaves.
Admire Shishkin picture "Golden Autumn" can be infinite! Nowhere in such magnificence will open beautiful secrets of nature, as in this landscape. A little covered with fog, but the beautiful nature enchants, forcing in unison with the autumn wind to beat the heart