Home

⇒
📌Klimt Gustav

⇒
Description of the painting by Gustav Klimt "Portrait of Adele Bloch Bauer I" (Golden Adel)
Description of the painting by Gustav Klimt "Portrait of Adele Bloch Bauer I" (Golden Adel)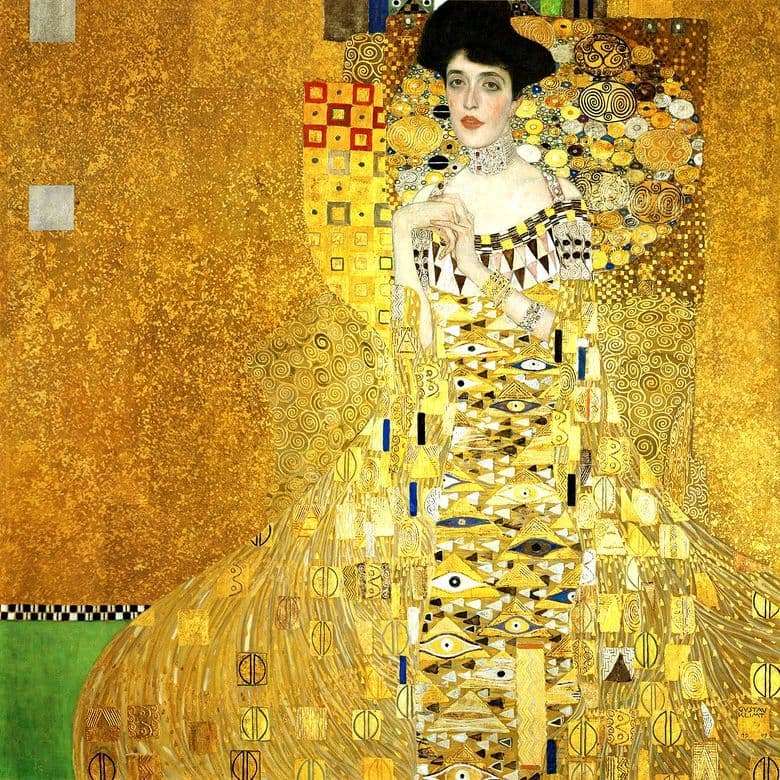 The Golden Adel is the most significant canvas of Gustav. Portrait of the Austrian Mona Lisa deserved scandalous fame. In 2006 it was sold for a huge amount – more than one hundred million US dollars. In 2015, about the canvas was filmed "Woman in Gold".
The painting with the image of Adele Bloch-Bauer was created under the influence of the art of Byzantium. The artist was inspired by Byzantine art after a visit to Venice and Ravenna. After visiting churches, he transferred the style and manner of decorating church mosaics with gold to his canvases.
Adele the artist depicted using mostly cold tones. The face, hands effectively stand out among other episodes of the picture. The portrait can be divided into two parts (vertically): Adele is on the right side, the canvas on the left is empty, only a faint hint of home furnishings. At the bottom of the canvas, the artist placed the hem of Adele's dress.
Klimt was not afraid to experiment with a variety of techniques that were used in painting. He was looking for new looks for his works.
In 1907, the portrait of "Golden Adele" was exhibited in the painter's workshop in Austria. In 1910 he was exhibited in Italy. Later, the Bloch-Bauer family did not exhibit the canvas until 1918. During the hostilities in Europe, Hitler did not take the picture into his collection – Adele was born Jewish. Therefore, this canvas could not be either in the Reichstag, nor even in Nazi Germany.
Adele Bloch-Bauer, after her death, bequeathed all the paintings of the Austrian Gallery. Unfortunately, today it will not be possible to fulfill the will of the woman in gold – all the canvases were sold to private collections.





(
1
votes, average:
5.00
out of 5)
Description of the painting by Gustav Klimt "Portrait of Adele Bloch Bauer I" (Golden Adel)