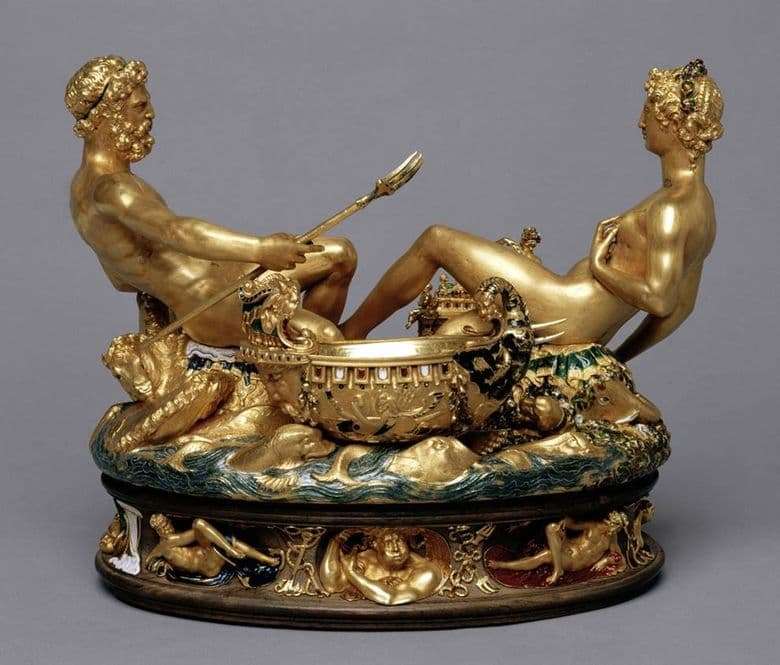 This table statuette is made of gold with a slight addition of enamel. In appearance, the gallery is more like a casket than a regular statuette. The height of the figure reaches 26, 3 centimeters, and in width – 33, 5 centimeters.
When Ippolito d'Este ordered a salt shaker from Cellini, the master immediately had the idea of ​​creating a figure implying a union of sea and land, as a result of which salt is born. Neptune, seated on sea horses, attracts the eye with stunning elaboration of forms. The immaculate figure of the deity is underlined by gold, which covers the figure of Neptune. His face, as usual, expresses severity and thoughtfulness, and his right hand is slightly stretched along with the trident. Next to it is a ship that holds salt in it.
Opposite the god of the sea is Ceres, the goddess of the earth, sitting on an elephant. The beautiful goddess is slightly tilted back, and her left hand covers her chest. A triumphal arch can be seen near Ceres, which will serve as a container for peppers. The figures of the deities are washing the waters, in which the silhouettes of fishes are seen. This device symbolizes the unity of the deities, the relationship of water and earth. At the bottom of the sculpture, at the feet of the goddess, is a salamander. She is the coat of arms of Francis I, embodying the customer of the sculpture.
Four putti decorate the shakers pedestal made of ebony. Images of angels symbolize the sides of the world and the wind. Under the pedestal are special rollers that allow you to move the statuette without lifting it. The richness of the saltcellar, careful study and understanding of the smallest details, symbolizing the unity of the deities and the elements of nature, as a result of which something completely new is born, has delighted people for hundreds of years. Undoubtedly, this work can be called the best of the works of Cellini.