Description of the painting by Orest Kiprensky "Portrait of Rostopchinoy"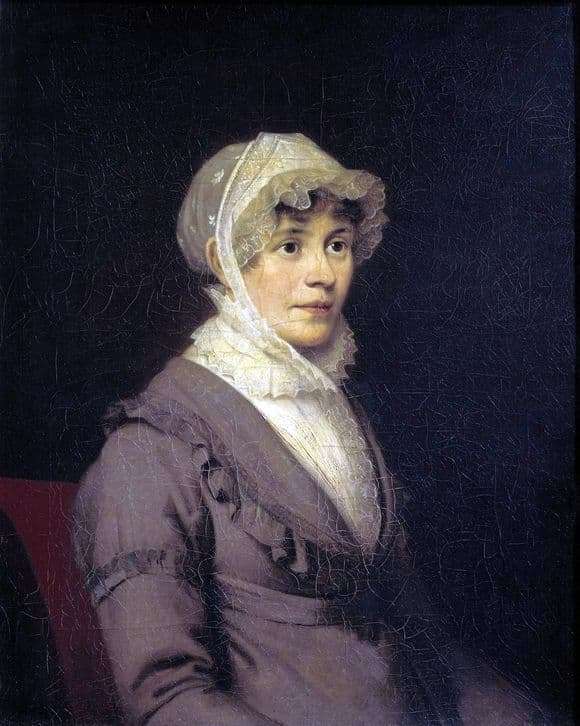 "Portrait of Rostopchina" – doubles with a portrait of her husband, and shows him a kind of opposite. Mrs. Rastopchina's husband was a fussy, talkative, noisy man. He was a collector and a writer, for some time was elected as the Moscow governor, and was the soul of the company, easy-going and fun. His wife, on the contrary, was not too talkative and loved to listen to inner silence more than human conversations.
In the picture, its essence, its quiet, gentle nature is transmitted simply superb. Unassuming dark background does not attract attention. The simple home dress of the woman does not distract from her face, which, like foam, is surrounded by laces on the blouse and cap. She is not very young, this face. Light skin, dark, attentive eyes, a slightly upturned nose, lips on which there is no smile – Rastopchina hardly attracted herds of young fans, but she didn't need it.
In the absence of external beauty, spiritual light is hidden, due to which the face looks inspired and beautiful. Inner harmony with itself is visible in the look, in the pose. As if having woken up on the call, did the person call her, or did something hidden in her soul? – she pulls slightly forward.
Also in her slightly pursed lips, in the eyes that look trustingly, openly, one can see the readiness for suffering. To History with a capital letter. To something that can happen. A certain potential, the talent of an actress or a singer, perhaps, or perhaps just the ability for a deep, pure, moral sense, fills it with hidden trepidation. Willing to respond to the right note.
Perhaps it was such a note that woke her once. While traveling in Germany with her husband, Rostopchina adopted the Catholic faith. Probably, she found in her exactly the strain, the correctness to which she was able to apply the forces of her soul.





(
1
votes, average:
5.00
out of 5)
Description of the painting by Orest Kiprensky "Portrait of Rostopchinoy"