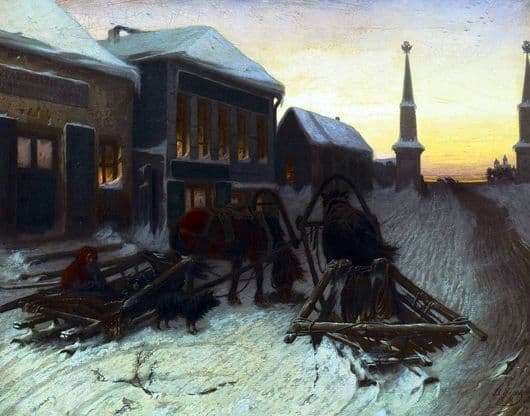 The visual activity of Vasily Grigorievich Perov has undergone a lot of changes associated with stylistic features: the master abandoned a large number of areas that are associated with characters, a grotesque diversity of color.
The gamma of the picture becomes complex, and the plot is revealed with the help of a coloristic conclusion, figurative psychological mood and colorful expressiveness. The artist's early creations include some kind of caricature of life and clergy. Satire is gradually fading into the background, and it is replaced by an expressive focus and the achievement of large human volumes.
The work was created in dark colors, only the hands of the flame in the windows as if trying to break into the outside world, and make a continuous restless state. The tavern and the temple are two spaces where a person has the opportunity to warm up in the winter cold. The first, according to the texts of Perov himself, is a "pit of lust," the cruel flame of which filled all the floors of dwellings.
Heavy snowfall, randomly spoiled by sleds, mud that outlined the whole carriageway near the church, informatively show what kind of refuge travelers have chosen. Here, farmers skip the cash they have earned in a day. And, for everything, the peasant woman who is blue from the cold is waiting for her spouse on a sledge.
A frost emanates from creation, a warm half-tone exists in the image of a suburban cafe, and a piece of gloomy skies, they are depicted behind the church.
Dark, dark and brown colors only increase the feeling of helplessness and cold, because nowhere is there a gap in the fate of a person. The picture no longer entails satirical vices and public opinion, but only sums up the bitter truths that it is impossible to improve life in your native country. Perov truly imbued with the soul and the brush to the human problem.