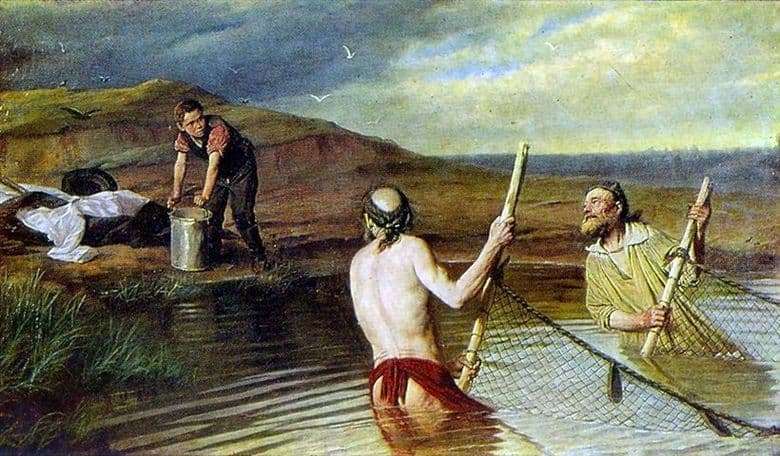 Another name for this painting is "Priest, Deacon and Seminarian." This satirical canvas depicts two church workers pulling a complete net; a seminarian on the shore is preparing a bucket to put fish into it.
The faces of the participants of the scene are masterfully written; The priest's strained, but enlightened expression contrasts with the gloomy, displeased, and seemingly frightened face of a seminarian. Most likely, this kid was sufficiently stabbed at the seminary – at any moment he is waiting for a dirty trick from his elders, and his hard work is clearly frightening.
The background is registered with a guide to Renaissance painting masters, translating a banal plot into the category of the biblical. Gulls on the background of a stormy sky, characteristic rocks and rare bushes near the water – such a background in the Middle Ages was typical for the image of the Madonnas.
Vasily Perov was born out of wedlock; and, although after his parents were married, he did not have the right to carry his father's name, Kridener. This situation left a certain imprint on the character of the artist. In all the documents he had the surname Vasiliev, but later Vasily replaced it with the nickname Perov.
The artist's paintings are realistic and truthful, but, in addition to this, they have two distinctive qualities – gloomy severity and satiricality. The artist loves the contrasting oppositions of the characters to each other, due to which the satirical effect is usually enhanced. Basically, Perov portrayed the dark, unsightly side of life, at the same time making fun of his characters. And only in the last years of his life the artist's paintings acquired a brighter, lighter flavor, and the depicted scenes became more lively and everyday.