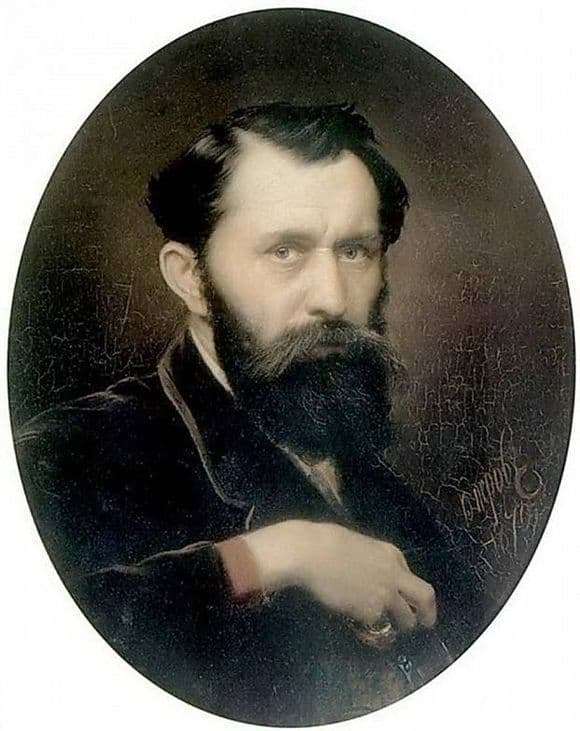 The year in which this self-portrait was written turned out to be very difficult for the artist in all respects. On the one hand, he lost his spouse, she died, leaving children with him. It was a real blow to him. On the other hand, this year was very fruitful for his artist career. At that moment he had a rather successful and creative work that could allow him to participate in the public life of the country. He was approved as a professor at the school, which allowed him to feel recognized.
In the picture he depicted himself as an adult and handsome man of thirty-seven years old, his confident gaze is fixed exactly on the viewer, he looks shrewdly and calmly. His whole appearance suggests that he is confident in himself and has achieved considerable success in life. This is one of the best periods in the creative life of the artist and he was aware of this both in life and in the picture. His role in art is difficult to overestimate. The color of the picture is quite dark, but these colors are warm enough. He is depicted half a turn, and behind him everything is painted over with a dark color that brightens closer to his head.
Perov has a long and even thick beard of black color and hair of the same color in the portrait. Hair is depicted in a slight disorder and the first bald patches are already visible. He is depicted in a warm jacket, possibly made of velvet or other dense material with a collar and cuffs. Under the jacket you can see a white shirt. On his right hand, which also hit the image, there is a ring confirming that he is married. This can be considered a kind of tribute to his wife.