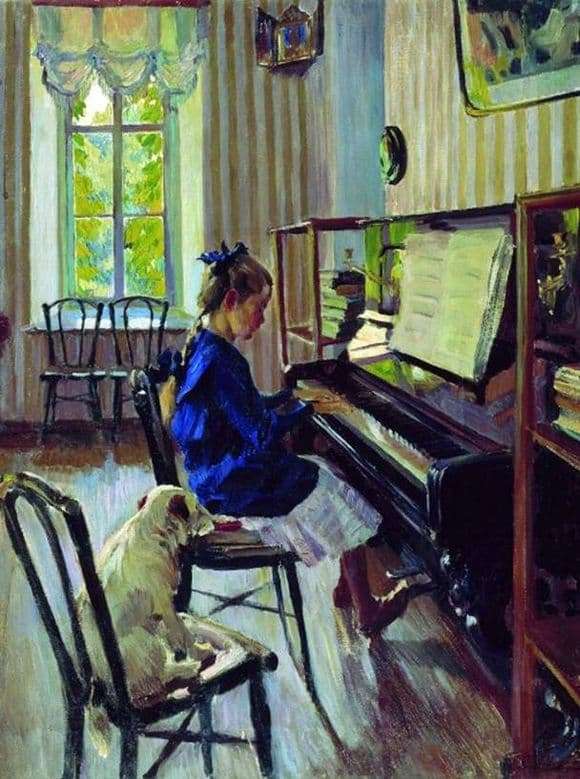 Since 1910, S. A. Vinogradov, like his associates from the Union of Russian Artists, was seriously fascinated by the theme of the old estates of the Russian Empire. The new trend spawned an extensive series of paintings, elegiac and imbued with lyricism. Spacious interiors of country estates, flowering gardens, flooded with sunlight, all this inspired and enchanted Vinogradov.
The artist had a close friend and, at the same time, fellow painter, Alexei Stepanov, who had a daughter, the girl Ekaterina. They often met together in the estate of Golovinka. In this place with the poetic nature and beautiful well-groomed dachas, the artist Vinogradov works on a gallery of similar paintings, which he calls briefly: "In the House". Masters are interested in the interior of the rooms, the measured life of people far from the city and the blooming wildlife outside the windows.
On the canvases often flashes a little girl with pigtails. This is the very daughter of the artist's friend Katya Stepanova.
Vinogradov wrote it during different occupations: at the dinner table, on the veranda, for embroidery and drawing. In the painting "Playing" in 1914, Katenka sits at the piano. In addition to the figure of a girl, the painter included in the plot a figure of a dog, which settled on a chair next to each other.
He paid much attention to the description of the decoration of the house. Yellow striped wallpaper, properly placed chairs, an icon in the corner, a large picture, books on the shelves. A closed window is decorated with an openwork curtain.
The space is flooded with soft light. Fresh green trees behind the window is reflected on the mirror smooth surface of a black piano. This fusion of scenery in the street and interior looks harmonious and cheerful.
The canvas "Plays" is written in broad, drawn-out and swift strokes. You look at the canvas, and you feel the mood of the girl, the young pianist. Informal play, rest, peace and tranquility reign in the soul from viewing the work that is now in the Art Museum of Belarus.