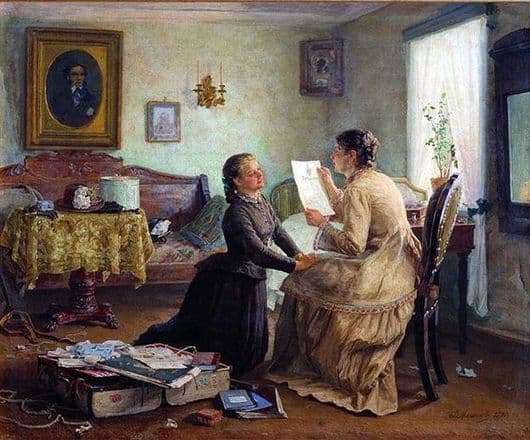 How wonderful it is to return to your home from distant lands! On Maximov's canvas, we can observe an amazing scene of the return of a girl who was educated away from home.
In those days, getting an education as a girl was considered foolishness or whim – it was believed that a girl should have good manners and study at home. For this, governess were hired.
But of course, such home schooling was at most an idea for leisure activities for the maturing young lady. Meanwhile, it did not give any official status to the student.
In the center of the picture – the graduate herself. Yesterday's student is dressed in a gray student's dress, at some distance on the coffee table you can see an elegant ladies' hat with flowers. Her face is red with tears, she kneels and puts her hands on her mother's lap. It is hard to imagine how much she missed her native home and family. Her gaze is full of happiness and pride.
Mother sits on a chair near the table and looks at a diploma. She pushed the paper close to her eyes and squinted a bit to carefully study everything she had written.
The situation around the characters suggests that the girl has just arrived. A hatbox is on the coffee table, a suitcase with things open and lying on the floor. Things from it are randomly pulled out and scattered – the graduate hastily searched for a diploma.
The decor of the house is bright. The furniture is rather shabby, most likely, people of not very large incomes live in this house, however, they found the strength to educate their daughter.
The girl already wants to hug her mother, to listen to praise for her efforts, but her mother carefully reads her diploma. She herself is blush with pride in her daughter. The mother's heart is about to flinch and she herself will be flooded with tears of joy.