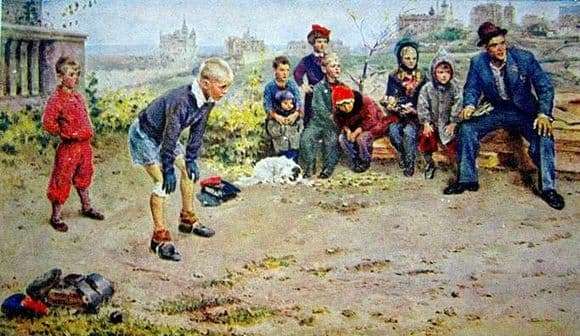 We see an abandoned wasteland. Children gathered here after school to enjoy their favorite game of football. In the center of the picture is a simple boy. He stands at the gate. Of course, they are improvised. Border simply marked with portfolios. The fans are located on the logs. We see seven guys and one man. The artist also depicts a white dog. She lies at the feet of a little girl and sleeps peacefully. The dog is absolutely not interested in what is happening around her.
In the center of the picture is a boy. He stands at the gate. He is 12 years old. He is wearing a blue jacket, from which one can see a white shirt collar, blue shorts and regular shoes. In the hands of the goalkeeper must wear gloves. We see that one knee is bandaged. But this injury did not become an obstacle to his participation in the game.
The boy is depicted in a slightly bent pose. He is completely absorbed in the game. We do not see the rest of the players. The fact that there is a serious game, you can guess only by the serious expression of the face of the goalkeeper. In the hands of this boy is now the fate of the whole match. You need to by all means avoid a goal.
Fans are also extremely tense. We see boys and girls. They all stare at the field. The ball is very close to the gate. Passions run high to the utmost. Fans with great joy themselves would become participants in this game. But they are still small, so it is too early for them to be football players.
But supporting your team is also a responsible matter. The most desperate boy ran onto the field. We see him right behind an improvised gate. He is not able to influence the outcome of the game, but he cannot sit still either.
The artist was able to convey the general enthusiasm for football. Our attention is focused on the emotions that the game causes. The viewer feels that she was able to capture all who came to the wasteland.