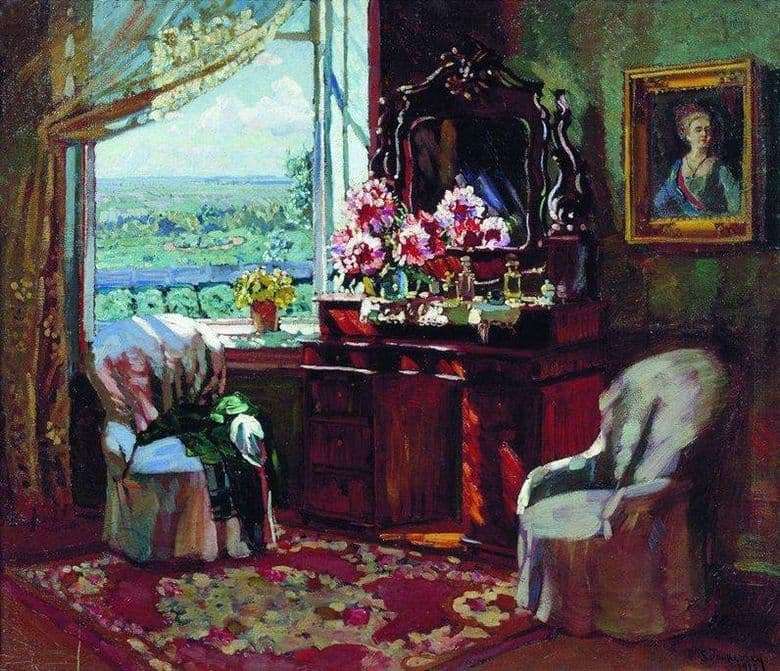 The picture was painted by the great artist of the past epoch Stanislav Yulianovich Zhukovsky in 1920. In creating the masterpiece, the author used canvas and oil, size 86×103. Russian artist, representative of historical modernity. One of the famous and popular landscape painters in the country. In the paintings of the artist dominated the theme of the interior. The artist found inspiration and plots of paintings in old houses and mansions.
The painting "The Interior of the Room" was painted with careless strokes, which give it some originality. The painting combines two types of painting, a portrait and a landscape that can be seen from the open window of a room. In the center of the image is a chest of drawers and two chairs that look harmonious in the composition. The simplicity of the interior, no unnecessary details, all this allows the artist to accurately convey what he saw. The picture is painted with bright colors, most likely it is the women's room, rich colors in the interior, a dressing table decorated with flowers, and objects of the women's toilet.
A warm summer day, an open window letting fresh and clean air into the room. Sprawling expanses of nature outside the window. The rays of the sun enter the room and give it brightness and charm. Light and transparent tulle pushed aside. Mirror, portrait, everything looks harmonious in the room, everything seems to be in its place, it should be so. White and air capes on the chairs, colorful palace make the room cozy. The picture surprises with the play of light, the feeling of piercing lightness. The interior of Zhukovsky is a familiar environment in which people live and spend their time.