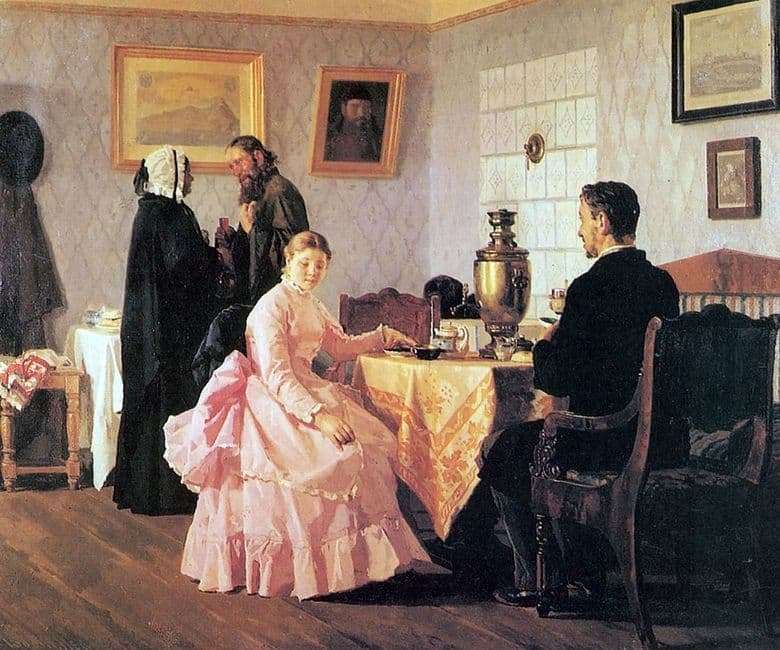 The remarkable work of the Russian artist Nevreva "The Smotryn" has another name – "Matchmaking", which demonstrates the custom of entering into marriage and linking relations with a young man. The artist refers to the image not only of the interior, but also of the characters, each of which fulfills its purpose.
The picture shows the usual household items – a chair on which a towel hangs, a sofa of striped colors. All shades of the picture are bright, sparkling, show the bright event that occurs in the picture. Shows the matchmaking day of a young girl who put on a pink dress, made of satin.
In the interior everything is arranged and takes its place – a samovar, which glitters and asks to promptly tell the fragrant tea at the holiday table. Even the stove tile glitters, it is clear that the hostess tried before the arrival of the matchmakers. The deacon and mother, who are visible in the background, are dressed in black clothes, thus the artist sought to focus the viewer's attention on a young girl and a guy. The young man openly examines the girl, trying to understand the traits of her character, and the girl in the pink dress, confusedly looked away, afraid to look at her narrowed. The viewer is burning with curiosity, what will end the fate of young people, what will really decide the older ones. As seen in the picture, the girl likes the young man very much and he does not hide it.
The presence of a priest in the picture symbolizes that the people of that era gave great importance to the church and their decision. The deacon is the messenger who should give the blessing to the couple. It is possible that the girl does not like the young man, however, she does not have the right to cross the senior. In the picture, the artist tried to portray the problem of this custom, which led to an unhappy marriage.