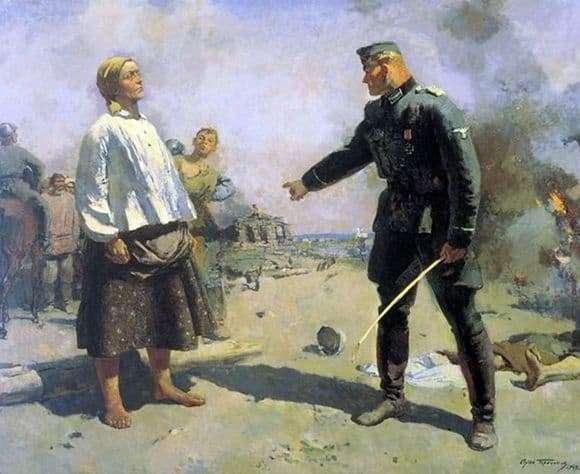 Gerasimov worked on this masterpiece for a long 7 years. He began the picture in the turning point of 1943. At this time, the Nazis have already stopped. The guerrillas were the avengers of the people, who just united the front and rear. These patriots were not afraid of torture and threats.
In the center of his canvas Gerasimov depicts a simple Russian woman. Fascists can not intimidate her. Directly behind it is the native land, which the enemies have scorched and defiled. She is covered in blood by her own people and close friends. This land became patriotic sacred. And these are not just big words.
The Nazis were able to feel how powerful the anger of the people. The officer looks really miserable, compared to a real Russian woman. The artist deliberately focused all the fullness of colors and the brilliance of the sun on the mother's figure. We see its strength and greatness, and a conflagration is blazing behind it. On the face you can read the suffering. But we see an unshakable person who is not afraid of anything.
The image of the fascist contrasts sharply with this power of the Russian woman. A pronounced characteristic is absent. If the figure is rather fragile, then the legs are curves. Commanding his gesture, as if hung in space. The painter found the perfect turn of the head of the German in order to focus on the severity of the jaw and the gloom of the forehead. Something bestial appears in it from it.
Gerasimov deliberately concealed everything that accompanies the main characters. Before us is only a mother and a fascist. Their figures are traced in the smallest details. Other characters are only scheduled.
The artist showed in this strong episode of the clash of the Russian woman and the German the courage of the Russian people and the maximum steadfastness in a truly great struggle. People believe that the mind will definitely win, otherwise it just cannot be.
Gerasimov embodied bright and deep optimism in this picture. Before us is a creation that is surprising in monumentality.